---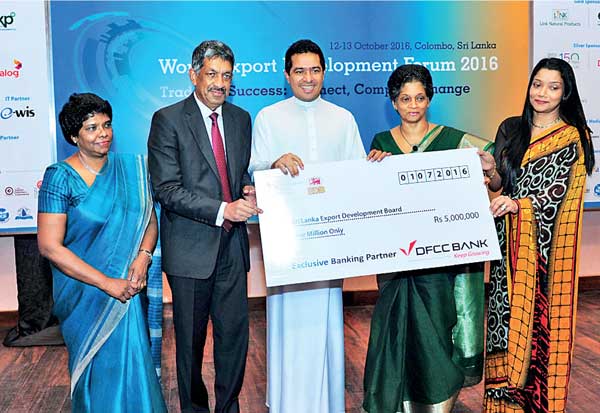 L-R Renuka Amarasinghe, Senior Vice President - Corporate Banking, DFCC Bank, Arjun Fernando, CEO, DFCC Bank, Hon. Minister Sujeewa Senasinghe – State Minister of International Trade, Indira Malwatte, Chairperson and Chief Executive - Export Development Board, NilminiGunaratne – Assistant Vice President - Marketing, DFCC Bank
DFCC Bank PLC recently partnered with the Sri Lanka Export Development Board as the exclusive banking partner of the upcoming World Export Development Forum, which is set to take place in Colombo from 12th -13th October.

This forum will bring together over 600 local and international business leaders, policymakers and members of investment and trade institutions, to address advancements in sustainable trade as well as the latest strategies for maintaining international levels of competitiveness. A flagship event of the International Trade Centre, the forum will be co-hosted by the Sri Lanka Export Development Board (EDB) and will focus on highlighting how Sri Lankan SMEs and Corporates can navigate a rapidly evolving global trade landscape.

The global forum will take place at the BMICH and will be held under the theme, 'Connect Compete and Change'. The forum will feature an array of high profile speakers from the public and private sectors, and will include specialised workshops and sector specific presentations that will focus on the tourism, ICT, specialty foods (such as spices, tea and processed foods), apparels, rubber and other manufacturing industries. The forum will also include a high-level roundtable discussion, a Sri Lankan gala night and a mini exhibition showcasing local products.

Commenting on DFCC Bank's partnership with the EDB, Arjun Fernando said: "For over 60 years, DFCC Bank has been in the forefront of development, transforming rural economies by nurturing entrepreneurship, partnering and financing pioneering ventures and new industries, thereby contributing significantly towards the economy. The World Export Development Forum will play a crucial role in enabling businesses to understand how they can flourish by utilising effective value chains and embracing the benefits of sustainable trade, and DFCC Bank is proud to partner with the EDB as the exclusive banking partner of this prestigious event, which aligns seamlessly with our efforts to drive economic growth in the country."

DFCC Bank remains dedicated to advancing financial inclusivity and supporting the growth and development of the nation. As part of its vision to create sustainable value for all its stakeholders, DFCC Bank strives to provide its valued customers with a comprehensive range of innovative and responsible banking solutions.

DFCC Bank PLC, renowned as a national icon, possesses the expertise of a pioneer development bank and the energy of a dynamic commercial bank. It offers a breadth of seamless banking solutions which includes a host of Savings and Deposit products that gives customers unmatched value and unique benefits.