---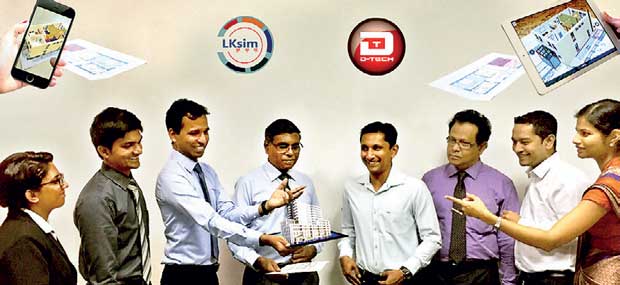 From left : Maheshya Weerasinghe – Engineer LKSIM, Ishan Madurawala – Engineer LKSIM, Dr. K D Sandaruwan – Director – LKSIM, Prof. N D Kodikara – Chairman – LKSIM, Kasun Rajapaksa – Managing Director – DTECH, R/Adm. Senadhneera (Rtd) – Director – LKSIM, Sean Fernando - Chief Operating Officer DTECH, Nelani Rajapaksa - Management Representative DSI
D Tech (Pvt.) Ltd and LK Simulation (Private) Limited (LKSIM) announced their partnership to strengthen their capabilities to deliver enhanced value to customers.
This announcement marks an important milestone in the relationship between the two organizations, to help businesses connect with their customers by adopting augmented and virtual reality software. The signing took place on March 3rd and D Tech was appointed as the Exclusive Distributor by LKSIM in order to position and implement a selection of Visualization and Simulation products. One of the most exciting developments in visualization technology is happening right now in Sri Lanka. Augmented reality technology has brought about innovative applications that makes printed media and mobile devices 'come alive' right before your eyes. Initially focused on the B2B market, D Tech is now expanding its operations to offer entrepreneurs, building constructors, designers, architects, landscapers etc. the chance to cash in on this innovative technology, enabling them to sell their products and expertise to their clientele more easily. Officials who were instrumental in finalizing the partnership included Prof. N D Kodikara, R/Adm. Senadhneera (Rtd), Dr. K D Sandaruwan of LKSIM and Managing Director of DTech (Pvt.) Ltd. Kasun Rajapaksa, Management Representative DSI, Nelani Rajapaksa and Chief Operating Officer of D Tech (Pvt) Ltd. Sean Fernando.
Through this new relationship, customers will benefit from the expertise of a multi-disciplinary team engaged in areas of modeling, simulation and visualization, bringing global innovation to the local market. Globally augmented reality solutions are being used heavily within the value chain of large organizations to provide an unmatched competitive advantage, specially in the areas of non-tangible product positioning.
Together, D Tech and LKSIM are positioned to bring the same global solutions with enhanced local innovation for a fraction of the cost to the local and regional markets.
"We are happy to be working with LKSIM," said Kasun Rajapaksa, Managing Director of D Tech (Pvt.) Ltd. "We realized that we needed a world class partner to provide the service and expertise needed to satisfy the varying needs of our clientele." The role of technology has changed from managing assets and services to delivering perfect user experiences. In this era of a rapidly changing landscape, businesses must be prepared for this change to meet the ever evolving business and user expectations," he concluded.
"The need for this technology has grown rapidly as customers globally have responded to its unique value proposition combining pre-implementation business consulting with delivery excellence," said Sean Fernando, Chief Operating Officer for D Tech. "Today's partnership underscores our commitment to these applications and our vision of enabling businesses to grow. Through this partnership, we can provide our customers with access to some of the finest technology and expertise in the world. We'll help position their products and services in a new and futuristic way, leading to better positioning and competitive advantage," he added.
D Tech (Pvt) Ltd, a member of DSI Samson Group, is a premier, innovative and rapidly growing Technology Solution Providers in Sri Lanka.
Core business includes data analytics, visualization and productivity software. Infrastructure solutions managing and executing turnkey projects for power, data and voice cabling, CCTV solutions, access control system, data center setups and could solutions
Its competent team of consultants and engineers with domain knowledge across multiple industries offer solutions for data visualization are geared to take it to the next level by providing virtual reality and augmented reality solutions to the market.