---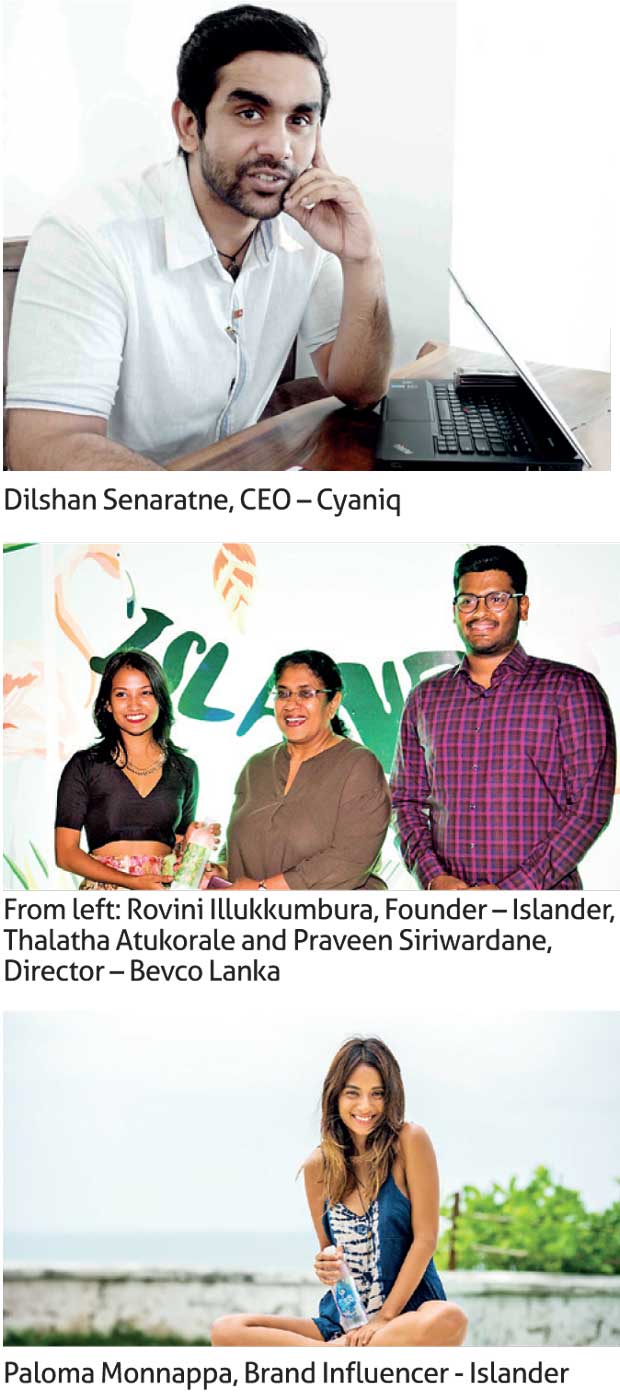 Islander, the newest lifestyle brand to be introduced to the local market unveiled its brand identity and range of beverages in collaboration with Cyaniq, the premier marketing and communications consultancy.

The brand launch which was held at Honey Beach Club at the Kingsbury Hotel drew in the attendance of a distinguished guest list including Minister Sujeewa Senasinghe and Jalani Premadasa.

Conceived under the pay-off line – 'Inspired By You,' the Islander brand embraces the authentic island experience and positions itself as a tribute to all things inherently Sri Lankan and the enchantment of the island's many facets, especially its strong sense of community. Following over two years of research, development and design, the brand aspires to roll-out a diverse range of independent product lines converging at the point of its brand promise. As an emphatic starting point to its envisioned future, the Islander unveiled its range of water and flavoured water-based beverages at the event.

The Islander range of flavoured water-based beverages are positioned to be a highly viable replacement for carbonated soft drinks (CSD) whose reputation as a primary catalyst of most fatal non-communicable diseases is gaining rapid recognition all around the world. A purely natural concoction of natural fruit flavouring, zero sugar and no colouring, the range of beverages are available in four variants - Peach, Watermelon, Mint and Lemon and Lime.

"The Islander brand has been in the works for some time now and I was really keen on perfecting what I envisioned will be the right identity for the brand before bringing it out to the market. I'm really excited to start unveiling all the things we have been working on in the past few years," commented RoviniIllukkumbura, Founder of Islander speaking at the launch event.

RoviniI llukkumbura, a determined entrepreneur with a track record of creating and sustaining brands as part of global brand management teams and a Director of Illukkumbura and Sons (Pvt) Ltd has also succeeded in forming a synergy with Bevco Lanka for the production of the beverage range at their state of the art manufacturing facility.

With a strong emphasis on community, sustainable business and giving back, the Islander brand has pledged a portion of proceedings to charity and hopes to continue inspiring the community it rallies around the brand to adopt a more sustainable and conscious lifestyle. An extensive recycling initiative has also been undertaken by the brand to ensure that the bottles and packaging are disposed of with absolute responsibility towards the environment.

"For us, this has been the fourth major brand launch for this year (2017) and we couldn't have been happier to end the year with the Islander brand. For us, Islander is all about inspiration and it has been a great experience to work with a brand that aspires to sustainably navigate its way in the highly competitive and often less than responsible FMCG market space. With the introduction of some serious regulations against added sugars in beverages and polythene and plastics, we have seen a change in the direction of the commercial landscape and we couldn't be happier to enable a truly sustainable brand like Islander. Our involvement with the brand will be a continuous one and we are already looking at broad-basing the product line to foreign markets, something we believe we will have success in achieving," commented Dilshan Senaratne, CEO of Cyaniq.

Cyaniq is a full-scope marketing and communications consultancy with an emphasis on collaborating with entrepreneurs to conceptualise, develop, grow and sustain brands with the potential for success through simple and effective communication strategies. The Islander range of beverages will be available in retail outlets in early 2018.