---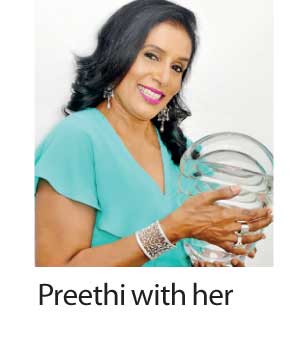 Preethi Fernando, a connoisseur of crystal ware and all things fine and luxurious will reopen her super luxury crystal boutique on 14 December in time for the festive season.

Preethi whose dedicated crystal ware shop Crystals was temporarily closed for refurbishment, has a whole new sparkling collection in time for the festive season and all you shop a holics outs there !
An admirer of crystal ware since she was a young girl, Preethi would always bring back unique pieces of crystal from her travels to Europe and elsewhere . while living in the UK for a period of more than 10 years, she developed more of a passion for crystal ware and it was then that she started to form her collection of crystal ware .

Most of the products on sale at Crystals are made in Italy, Germany, U.K. and Ireland, and her new collection that will be unveiled on the 14th promises to be a delight for all shoppers.
"My main focus is to provide customers with a fabulous selection of contemporary designs. We have variety of different pieces such as wine glasses, cocktail glasses, champagne flutes, bowls and trays . Other crystal items include vases, candle holders, frames and so much more".