---

The Crysbro chicken stall enticed the attention of thousands of culinary lovers who trotted the BMICH to participate in Culinary Arts Exhibition 2017.

Among the scores of participants at this exhibition, the Crysbro chicken stall stood out as the most remarkable booth with special features unique to Crysbro, grabbing the attention of the large number of cuisine enthusiasts. Designed to depict a modern and spacious kitchen, the Crysbro mychef stand was deliberated on the theme 'mychef.lk - Powered by Crysbro'.

Parallel to the Culinary Arts Expo, Crysbro's mychef.lk website and mychef.lk Facebook page were also launched in grand style. Another notable feature that captured the attention of the audience was the 'Spin the Wheel' digital competition conducted on the huge digital screen situated on the right hand side of the stall.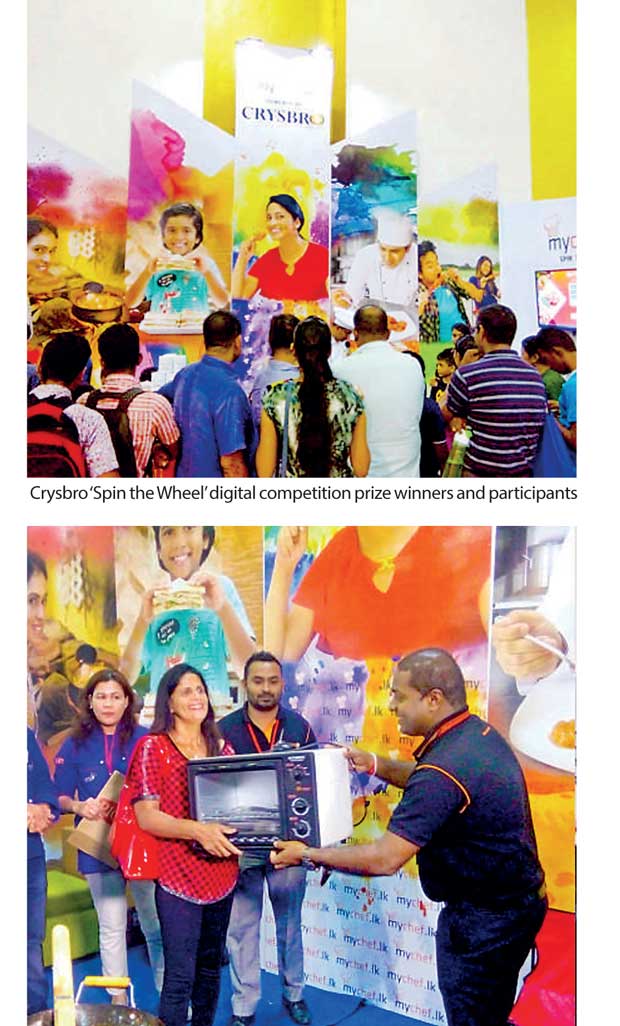 The game-crazy culinary lovers were able to win Crysbro mugs, Crysbro recycle bags, Crysbro key tags and Crysbro fridge magnets by participating in the Crysbro digital competition, which was an unprecedented and unique experience at the exhibition.

With the launch of mychef.lk website and mychef.lk Facebook page, the consumers will also be able to enjoy the novel experience of engaging with the activities of Crysbro, which is also a unique experience for chicken consumers in Sri Lanka. Through the mychef.lk website and mychef.lk Facebook page, they can also obtain recipes for cooking the delicious Crysbro chicken and
win prizes.

What made this year's Crysbro stall special and interesting was the presence of an expert chef Nalin Pathirana, who prepared delicious Crysbro recipes live. The audience got the opportunity to savour dishes of these delicious Crysbro recipes prepared by the expert chef and enjoy the opportunity to win memorable prices that will make Crysbro a household name among Lankan chicken consumers for a long time to come.