---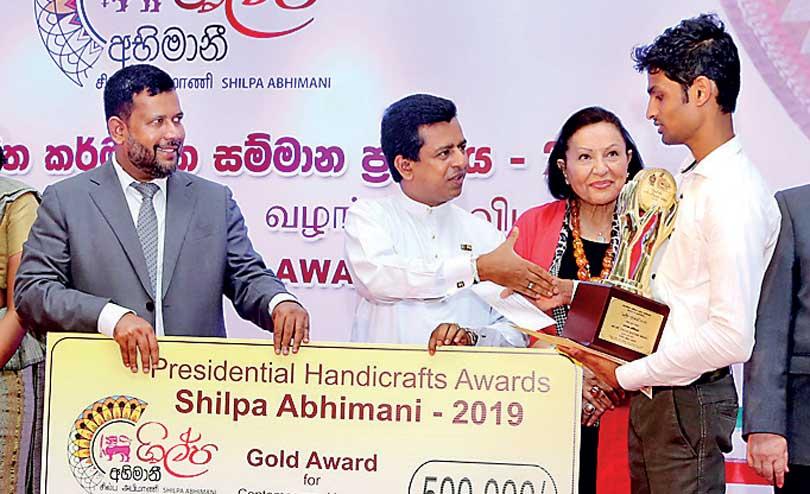 Ministers Rishad Bathiudeen and Buddhika Pathirana greet craftsman Chathuranga Priyadarshana who clinched the Rs. 500,000 NCC Gold Award for his creation at the 2019 competition
Sri Lanka has activated the long awaited free insurance facility to its historic crafts and handicrafts sectors.

Sri Lanka announced it's also keen on introducing hi-tech design tools to its craftsmen so that their intricate work could garner better global attention. "Very soon there will be demands by our craft sector to start work with latest technological advancements," said Industry and Commerce Minister Rishad Bathiudeen yesterday, addressing the Shilpa Abhimani 2019 Presidential Handicrafts Award Ceremony by the National Crafts Council (NCC).
He was joined by his State Minister Buddhika Pathirana, President of the World Crafts Council-Asia Pacific Region (WCC-AP) Ghada Hijjawi Qaddumi, NCC Chairperson Heshani Bogollagma, Australian High Commissioner to Sri Lanka David Holly, Iranian Ambassador to Sri Lanka Mohammad Zaeri Amirani, craftsmen and artists from Sri Lanka, Thailand, India, Oman, Iran, Bangladesh, and Nepal, Lankan craft winners and expo visitors.

"After years of work, we finally activated the free insurance scheme 'Shilpa Suraksha' for local craftsmen, beginning this year. In phase one of this project, annually 5000 Lankan craftsmen will receive free insurance cover. This is the first time in Sri Lanka's history that our craftsmen get insurance cover, that too free-of-charge.
There are more than 20000 registered Sri Lankan craftsmen with the NCC.

Sri Lanka Insurance Corporation (SLIC) is the provider of the free Shilpa Suraksha' insurance cover to Sri Lankan craftsmen.