---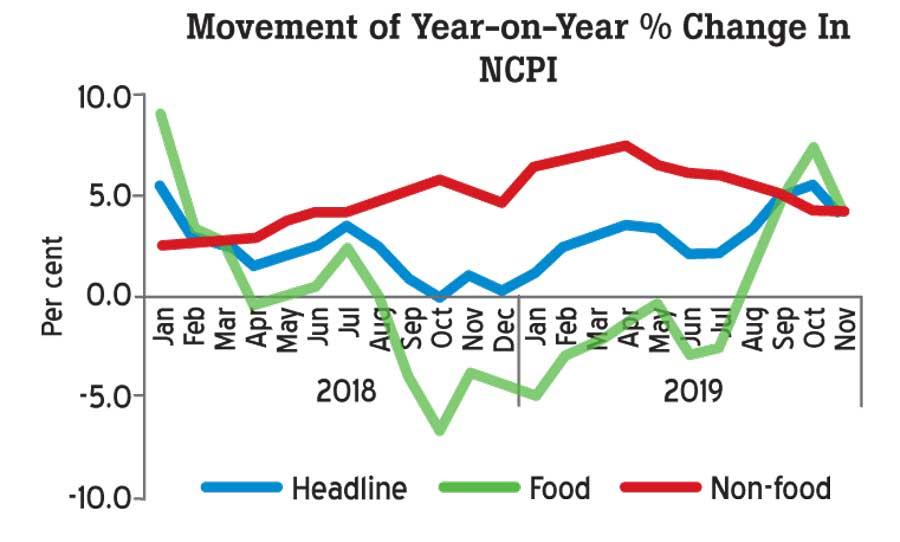 November's headline inflation as measured by the year-on-year (YoY) change in the National Consumer Price Index (NCPI) fell sharply to 4.1 percent, from 5.6 percent in October, partly due to the statistical effect of a higher base prevailed a year earlier and the easing of food and non-food prices.
According to the NCPI compiled and measured by the Census and Statistics Department, the increase in the food prices decelerated significantly in November to 4.0 percent, from 7.3 percent in October.

The prices of rice, vegetables, red onions and coconuts increased during the month.

However, the food inflation is likely to record a spike in December due to the rising vegetable and still high rice prices, despite the price floors by the government. The prices of many other consumer staples also remain high.

December is typically a period the inflation rises due to the festive demand.

Gotabaya Rajapaksa administration introduced sweeping tax concessions late November, covering almost all sectors of the economy. The most impactful reduction among tax cuts was the slashing of the Value-Added Tax (VAT) to 8 percent, from 15 percent, barring financial services.

The national economic policy of the new administration targets to maintain inflation less than 5 percent in the next five years. However, the prices of most of the consumer staples still remain stubbornly high. Traders cite supply disruptions due to adverse weather for the high vegetable prices. The Cost of Living Committee of the government, which met yesterday, decided to buy paddy from the rice mill owners and impose controlled retail prices for many varieties of rice. The officials of the Consumer Affairs Authority (CAA) have been visiting the shop owners to inform them of the maximum prices and the raids are also being carried out to nab the errant traders.

Meanwhile, the non-food inflation in November eased to 4.2 percent, from 4.3 percent in October.

Under the non-food category, the prices of alcoholic beverages and tobacco, housing, water, electricity, gas and other fuel sub-categories fell most in November.

The core-national inflation, which strips out the impact of often volatile items such as food and energy, eased to 5.5 percent in November, from 5.6 percent in October.