---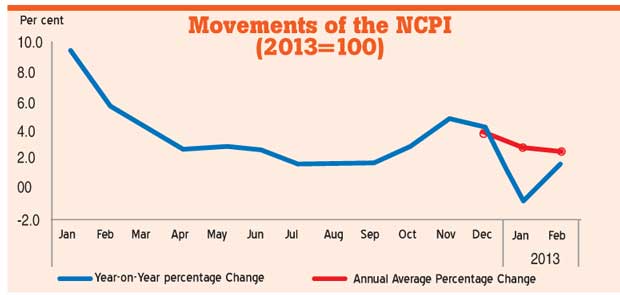 Sri Lanka's national inflation measured by the National Consumer Price Index (NCPI) rose to 1.7 percent on a year-on-year (YoY) basis, accelerating from 0.7 percent in January, as the effect of administered price cuts on essential goods was seen waning.
The main contributor towards the increase in YoY inflation was the non-food category, with substantial increases observed in alcoholic beverages and tobacco, clothing and footwear, furnishing, household equipment and routine household maintenance, health, transport and miscellaneous goods and services sub categories, which surpassed the overall price decline observed in the food category in the NCPI.

The NCPI for all items for the month of February 2016 was 110.8.

A decrease of 1.2 index points or a percentage of 1.1 was noted in February 2016 compared to January 2016 for which the index was 112.0.

This decrease represents an expenditure value of Rs.399.00 in the "Market Basket", the Census and Statistics Department said.

The moving average inflation for the month of February 2016 was 2.6 percent. The corresponding rate for the month of January 2016 was 2.9 percent.

The Census and Statistics Department says the NCPI is compiled using prices collected from all the nine provinces. The Colombo Consumer Price Index (CCPI) only covers the urban areas of the Colombo District.

The NCPI (base year 2013), is based on data from the Household Income and Expenditure Survey (HIES) conducted in 2012/13.