---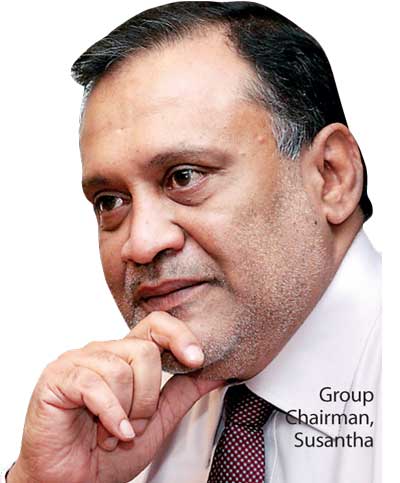 Diversified conglomerate, John Keells Holdings PLC (JKH), increased its September quarter (2Q17) net profit a modest 8 percent to Rs.3.77 billion or Rs.2.77 a share from a year ago as the group's business segments directly exposed to rising consumption demand performed better, the interim results filed with the Colombo Stock Exchange showed.
The JKH share lost 60 cents or 0.39 percent on Friday to close at Rs.151.30.

The revenues of Sri Lanka's most valued business entity rose 13 percent Year-on-Year (YoY) to Rs.25.76 billion. Cost of Sales increased 10 percent YoY to Rs.17.84 billion, resulting in a gross profit of Rs.7.92 billion, 20 percent higher than the corresponding period last year.
Consumer food and retail sector which contributes most to the group's top-line saw its revenues expanding 30 percent YoY to Rs.11.58 billion while the segment's bottom-line increased to Rs.1.14 billion, up 48 percent YoY.

The sector performance was supported by both the consumer foods and retail business as volumes of frozen confectionary and beverage business saw a double digit growth while margins improved, the company said in an earnings release.
"In order to cater to the envisaged demand and address existing capacity constraints, investments in both a new ice cream plant and bottling line at a cost of Rs.3.20 billion and Rs.2.50 billion respectively are due to commence shortly," the Group Chairman, Susantha Ratnayake said in a statement.
Retail sector performance has been supported by steady growth in average basket values and customer footfall contributing positively towards YoY growth in same store sales and notable incremental contribution from newly opened outlets.

The company plans to open eleven new outlets during the remainder of the year. During the first half nine new outlets were opened. This demonstrates the rapid shift of the fast growing middle income class in the country towards convenient shopping.
Meanwhile, the group's leisure unit, which runs properties in both Sri Lanka and the Maldives, saw its top-line growing 12 percent YoY to Rs.6.43 billion while the bottom-line rose a strong 58 YoY percent to Rs.1.21 billion. The leisure sector performance was supported by the city hotels sector and Sri Lanka resorts segment amid increase in occupancy levels and higher average room rates across all properties.
However, the performance of the Maldivian resorts sector continued to be impacted by the slower than expected recovery of the overall market from the effects of political events in late 2015. The group's financial services sector, which consists of Nations Trust Bank and the Union Assurance life business saw its top-line rising 16 percent to Rs. 2.07 billion, "mainly on account of Nations Trust Bank, which recorded encouraging loan growth," Ratnayake stated, adding that life insurance profits for the period was however lower. The segment's after-tax profit also grew 19 percent YoY to Rs.245.1 million.

The group's transport sector saw its top-line narrowing 22 percent to Rs.2.34 billion from a year ago, mainly because of the lower bunkering business and to a lesser extent the port business.
But the logistics business performed well due to the increase in throughput in its warehouse facilities. The segment bottom-line dropped 17 percent YoY to Rs.651.28 million.
Meanwhile in September, in response to a call by the government, JKH together with its consortium partners, APM Terminals and Concor (Container Corporation of India), expressed its interest to develop and operate east container terminal of the Colombo Port.
The group's property segment saw its revenues declining by a sharp 70 percent to Rs.282.2 million as the corresponding quarter of the previous year included revenues from the '7th Sense' residential development project which has since been completed.

"As planned, the second residential tower of the 'Cinnamon Life' project, comprising of 196 apartment units, was launched as 'The Suites at Cinnamon Life' during the quarter under review. The pre-sales of both residential towers of the project continue to be encouraging," Ratnayake said. The property sector bottom-line fell 85 percent YoY to Rs.39.68 million for the quarter.
Meanwhile, Ratnayake said the group's plantations services sector profits improved due to higher tea prices and operational efficiencies.
For the six months ended in September 30, 2016, John Keells group posted a net profit of Rs. 6.14 billion or Rs.4.52 a share, recording an increase of 9 percent from a year ago. The group earned a revenue of Rs.48.49 billion increasing up 11 YoY.

As at September 30, Broga Hill Investments Ltd held 10.4 percent stake in JKH followed by S.E. Captain with a 10.1 percent stake and Paints & General Industries Ltd with a 8.2 percent stake. Norges Bank, the Central Bank of Norway, has raised its stake from 1.0 percent to 1.1 percent during the quarter being the 15th largest shareholder.