---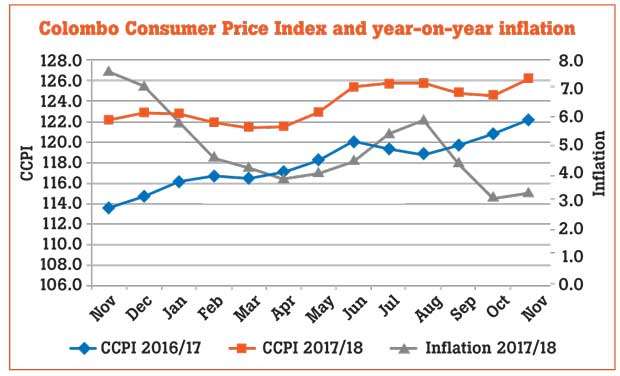 Consumer prices in Colombo rose 3.3 percent during the month of November on year-on-year basis, accelerating from 3.1 percent recorded for October, the data released by the Census and Statistics Department showed.

This ended a three-month streak in the inflation fall as measured by the change in the Colombo Consumers' Price Index (CCPI).

The contribution of food commodities for November inflation was negative 0.32 percent. However the contribution of non-food items was 3.59 percent. According to the Census and Statistics Department, this was mainly due to an increases in transport, health, housing, water, electricity, gas and other fuels.
The moving average inflation rate for the month of November 2018 was 4.6 percent. The rate for the corresponding month of October was 5.0 percent.

The CCPI for all items for November was 126.2, recording an increase of 1.3 percent compared to 124.6 recorded for October 2018. This increase was due to the expenditure value increase of food items by 0.89 percent and increase of Non-Food items by 0.41 percent.