---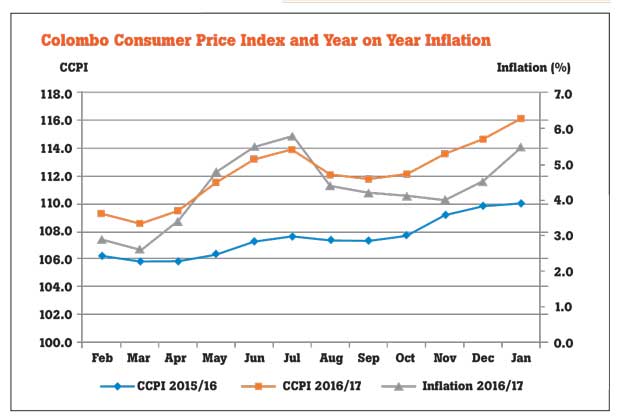 Sri Lanka's consumer prices measured by Colombo Consumer Price Index (CCPI) rose to a six-month high of 5.5 percent in January from a year earlier, accelerating from the previous month's 4.5 percent under a revised base-year and market basket, data from the Department of Census and Statistics (DCS) showed yesterday.
Core annual inflation, which excludes fresh food, energy, transport, rice and coconuts, rose to a record high of 7.0 percent in January compared to the previous month's 5.8 percent, the index with a new base year of 2013 showed.
DCS said the change in the base year was carried out to accommodate changing expenditure patterns and in cooperate changes of goods and services available in the market.
The CCPI for all items for the month of January 2017 was 116.1 and it records an increase of 1.4 index points or a percentage of 1.2 compared to the month of December 2016 for which the index was 114.7. This increase represents an expenditure value of Rs.880.13 in the market basket.
The increase in the index point by 1.27 percent was due to the increases of food items by 0.46 percent and non-food items by 0.81 percent, respectively.
A marked increase in value change in index was reported for rice, which hit 0.2 percent, the highest increase in the basket. Sri Lanka is currently facing a rice shortage due to paddy crop being hit by inclement weather.
Meanwhile, on a month-on-month basis, the Colombo Consumer Price Index (CCPI) rose 1.2 percent in January, up from last month's 1.0 percent.
January inflation, as measured on a 12-month moving average basis, hit 4.3 percent.
Inflation of Food Group has increased from 4.1 percent in December 2016 to 4.5 percent in January 2017 and that of Non-food Group has increased from 4.5 percent to 6.0 percent during this period.
For the month of January 2017, on year-to-year basis, contribution to inflation by food commodities was 1.31 percent. The contribution of non food items was
4.25 percent.
---
SL revises CPI base year, composition
REUTERS: Sri Lanka has revised the base year and the composition of market basket of the Colombo Consumer Price Index (CCPI) with effect from January to reflect changes in the market, the statistics office said yesterday.
The Department of Census and Statistics revised the base year to 2013 from the previous 2006/7 introduced in 2008, while increasing the non-food composition to 72 percent of the market basket from the earlier 59 percent, official data showed. "Obsolete expenditure pattern and inappropriate price changes could lead to misleading signals in policy simulation and decision making," the statistics office said in a statement. Under the new basket, the government has included alcoholic beverages, tobacco and narcotics along with restaurants and hotels, which were not included in the previous basket.
The new basket has also more than doubled the total consumption expenditure, data showed.