---
Hot on the heels of obtaining the regulatory approval to start commercial banking operations in the Maldives in 2015, Sri Lanka's Commercial Bank PLC has now received the licence from the European Union to start a fully-fledged exchange house in Rome, Italy.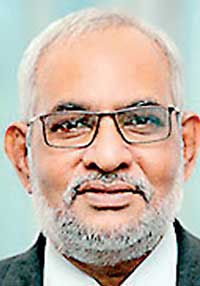 The bank already has operations in Bangladesh and it opened a representative office in Myanmar last year.

According to Commercial Bank Chief Executive Officer Jegan Durairatnam, the bank is expecting to start the operations under a fully-owned subsidiary this year.

The European region has been in the radar of Commercial Bank since 2014 as the country's largest private lender wants to harness the full potential of the remittances from the region into the country as a sizable diaspora community, which has links to Sri Lanka, lives and works there.

"Receiving the licence to operate an exchange house in Italy in 2015 was extremely gratifying as we were able to meet the rigorous processes and standards of the European Union and we expect to commence operations in 2016 under a 100 percent-owned subsidiary," Durairatnam said in his annual review of operations to the shareholders. At a time when the policymakers look to diversify Sri Lanka's remittance markets, Commercial Bank's venture looks timely and sensible to garner the remittance income from other regions as Sri Lanka's key remittance markets in the Middle East have become uncertain due to the falling global crude prices.
"As the first bank in Sri Lanka to identify the need and set in place the mechanisms to legitimize remittances from Italy, we believe we have a unique opportunity in this market, which also strengthens our position in our home market," he further said.

Sri Lanka's total remittances in 2015 declined 0.5 percent to US $ 6.98 billion.

Commercial Bank's cross border exposure as at December 31, 2015 stood at 4 percent of total assets, out of which the Maldives has the highest exposure.

The banking group had a total asset base of Rs.882 billion as at end of last year and made a profit after tax of Rs.11.9 billion, up 5.5 percent.