---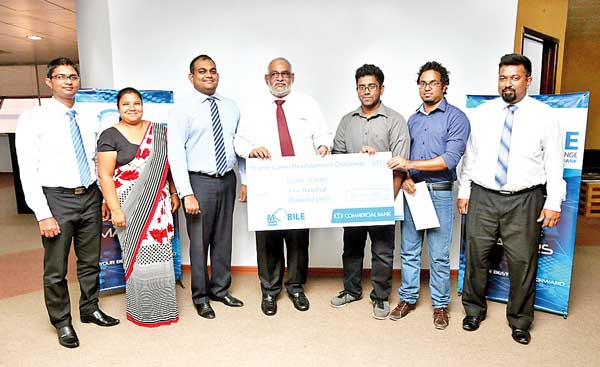 Commercial Bank's Managing Director Jegan Durairatnam (centre) presents a cheque to the Grand Prize winner in the challenge, in the presence of representatives of the Bank and the winning team.
The Commercial Bank of Ceylon has come forward to support up and coming mobile game developers by recognising their creativity and capability through a mobile game competition.
A first by a bank in Sri Lanka, the 'Combank Mobile Game Development Challenge' conducted by the Bank via Facebook over three months saw more than 100 applicants including individuals, companies and undergraduates of several leading IT universities competing, at the end of which 13 games were in contention for the final round.

The top three games based on the number of downloads during the trial period – 'Light Up the Grid,' 'Devil Run' and 'Fluffy' – are now available for free download from the Google Play Store, and have received many good reviews.

"Commercial Bank recognised the need to assist the local mobile game development industry, which mostly consists of undergraduates and students.The main objective of organising this competition was to provide an opportunity for young mobile app developers to come up with games and launch them with the backing of the Bank," said Hasrath Munasinghe, Deputy General Manager Marketing at Commercial Bank.

The challenge required contestants to develop games, host and promote them using any marketing mechanism to attract players.
The submitted games were judged by industry experts based on the originality of the concept, number of downloads, use of technology, visual design, controls and input and entertainment value.The winners were awarded cash prizes.

As the conductor of the challenge, Commercial Bank said it will market the games on behalf of the developers and provide them a platform to take their games to international markets, while promoting them locally.

A leader in technology-enabled convenience in the banking sector, Commercial Bank of Ceylon recently broke new ground by becoming the first bank in Sri Lanka to offer customers an e-Passbook that provides access to details of savings, current, NRFC and RFC accounts on Android and iOS powered mobile devices. Commercial Bank also offers mobile phone users the convenience of accessing many of its services via the Bank's own sophisticated app for users of Apple or Android-powered smart devices.

The global mobile gaming industry is thriving industry and has created many entrepreneurs. In addition to its commitment to create customer convenience through technological innovations, Commercial Bank is keen to extend its technical and marketing expertise to support the local mobile gaming industry through initiatives such as these, the Bank said.