---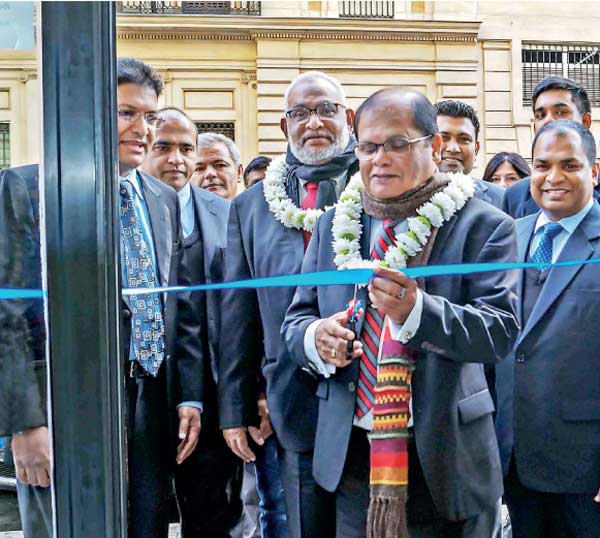 Commercial Bank Chairman Dharma Dheerasinghe accompanied by the bank's Managing Director Jegan Durairatnam opening the Commex Exchange House in Rome
Commex Sri Lanka S.R.L., a fully-owned subsidiary of Commercial Bank of Ceylon PLC, has inaugurated its money transfer operation in Italy, following the grant of a money transfer licence from the Bank of Italy.

Sri Lanka's benchmark private sector bank said Commex Sri Lanka S.R.L. of Via Giacomo Leopardi, Rome, incorporated and registered in Italy under the supervision of the Bank of Italy, had received the necessary regulatory approvals from both countries to engage in fund transfers on its own from a market that generates an estimated about Rs.3 billion in remittances to Sri Lanka per month.
Commercial Bank is the first Sri Lankan bank to open a company in Italy for money transfer operations.

"We are delighted to launch the Commex operation as a fully-owned Sri Lankan Exchange House offering money transfer facilities," Commercial Bank Managing Director/CEO Jegan Durairatnam said.
"The company was incorporated for that purpose, recognising the potential in Italy for remittance services to Sri Lanka."
He said the bank plans overtime to open branches in other Italian cities with high potential for money transfer services to Sri Lanka.

Italy is one of the biggest markets for Sri Lankan migrants with an estimated 150,000 Sri Lankans living and working there. The monthly value of fund inflows to the country from Italy is in the region of about Rs.3 billion, the bank said.

Commercial Bank is one of the first Sri Lankan banks to establish money transfer facilities in Italy, which led to many Sri Lankans, who had previously used informal channels to remit money to Sri Lanka using the bank's e-Exchange remittance service instead and prompted the bank's decision to incorporate its own subsidiary for money transfer services.