---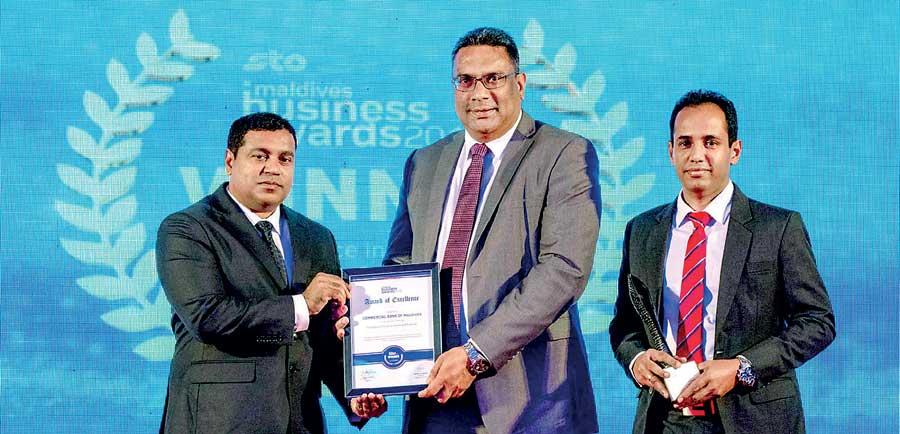 Commercial Bank of Maldives Chief Executive Officer and Managing Director Dilan Rajapakse (Centre) and the Bank's Head of Risk & Compliance Ujeeth Nakkawita (Right)with the award for 'Excellence in Finance'at the 2019 Maldives Business Awards.
The Commercial Bank of Maldives (CBM), a subsidiary of the Commercial Bank of Ceylon PLC, has been honoured with the award for 'Excellence in Finance'in the Banking and Finance category at the 2019 Maldives Business Awards in just its third year of operation.

The awards recognise business excellence and the introduction of revolutionary and innovative services and reward local corporations and individuals for maintaining industry best practices. The awards programme is organised by Blazon Inc., a full-suite Public Relations, Marketing and Business Development agency in
the Maldives.

Contributing to Commercial Bank of Maldives winning this awardis the fact that ithas been able to capture a sizeable market share while delivering customer friendly solutions to meet the needs of both the retail and corporate segments. The Bank brokeeven within a short span of six months of operations and recorded profit before tax of MVR 42.57 million (Rs. 490 million) for FY 2019. The asset base of CBM stood at MVR 1.63 billion (R.s18.7 billion)at the end of 2019.

Commenting on the award, CBM's CEO and Managing Director Dilan Rajapakse said, "This is our first and therefore a milestone award, and a precursor to many more such accolades in the future. We are especially proud because the Bank has emerged victorious after competing with well-established local and international Banks in the Maldives within just three years. We thank all our customers in the Maldives for their trust and confidence."

The panel of judges consisted of prominent personalities in the Maldivian financial sector inclusive of Hamdun Abdulla Hameed (Former Minister of Planning and now Ambassador to Singapore), Saeeda Umar (Former Chairperson of Bank of Maldives and Consultant of Asian Development Bank), Ahmed Munawar (Former Minister of Finance), and Ahmed Maazin (Permanent Secretary, Ministry of Finance).

Launched in 2018, the Maldives Business Awards' objectives include recognising excellence and creating healthy competition amongst businesses, promoting innovation and business intelligence, showcasing outstanding achievements by business community, and recognising the process by which individuals and businesses excelled in their
respective sectors.

Commercial Bank of Maldives commenced operations on 26th September 2016 and currently has two branches in the Maldives. Commercial Bank of Ceylon holds a majority stake in the bank along with Tree Top Investments Pvt Ltd., a leading conglomerate in Maldives.

The bank has followed a strategy of providing access to its services through the integration of modern technology and infrastructure to serve the growing consumer and business needs in the market. CBM has said it aims to be the most technologically advanced, innovative, customer friendly and most sought-after financial services organisation in the Maldives.

The only Sri Lankan bank to be ranked among the world's top 1000 banks for nine years consecutively, Commercial Bank operates a network of 268 branches and 865 ATMs in Sri Lanka. The Bank has won over 50 international and local awards in 2019.