---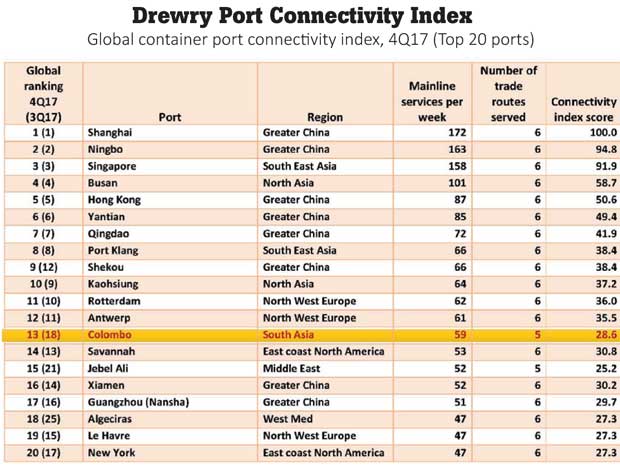 The Colombo port has gained five places in the latest Drewry Port Connectivity Index to be ranked as the 13th best connectivity port.

According to the rankings, the Colombo port is also the best connectivity port in South Asia.
The Drewry Global Container Port Connectivity Index recently announced the top 20 ports with new entries of Jebel Ali and Algeciras to the listing for the fourth quarter of 2017.

The shipping consultancy Drewry that has launched a regular, bespoke index of port connectivity in the latest edition of its Ports & Terminals Insight report aims to show how well connected the world's container ports are.

The index divides the world into seven major zones, and measures each port's breadth of connectivity by the number of regions served and how many mainline services call per week. Routes that involve transshipment are not counted, nor are intra-regional services within a region.

The Drewry Global Container Port Connectivity Index that signifies the importance of port connectivity as important as size or scale consists of two variables—the number of mainline services calling at each port per week and the regions in the world to which each port is directly linked.

Colombo port has exceeded 6.1 million TEU target and is expected to reach the 7 million TEU target by end of this year.

Sri Lanka Ports Authority (SLPA) recently signed a Memorandum of Understanding (MOU) with the terminal operators of the Colombo port to operate collectively to promote the port.

SLPA Chairman Dr. Parakrama Dissanayake said that the terminals would compete with each other but would also co-operate with each other moving between competition and co-operation.

"On the Asia to Europe sector there are 17 loops of which only 03 are calling Colombo. Therefore, obviously, we have got challenges to ensure that collectively we should attract more loops into the Port of Colombo. This means, we have to go beyond the partisan approach of promoting our terminals to protect the Port of Colombo," Dissanayake said.

At present, Colombo port has three terminals—the state-owned Jaya Container Terminal and the private public partnerships South Asia Gateway Terminal (SAGT) and Colombo International Container Terminal (CICT).