---
Intex South Asia 2016, the only international sourcing fair in South Asia that showcases the best in yarns, fabrics (apparel and denim) and clothing accessories, presents a grand display at the Exhibition & Convention Centre (SLECC) in Colombo from until November 18.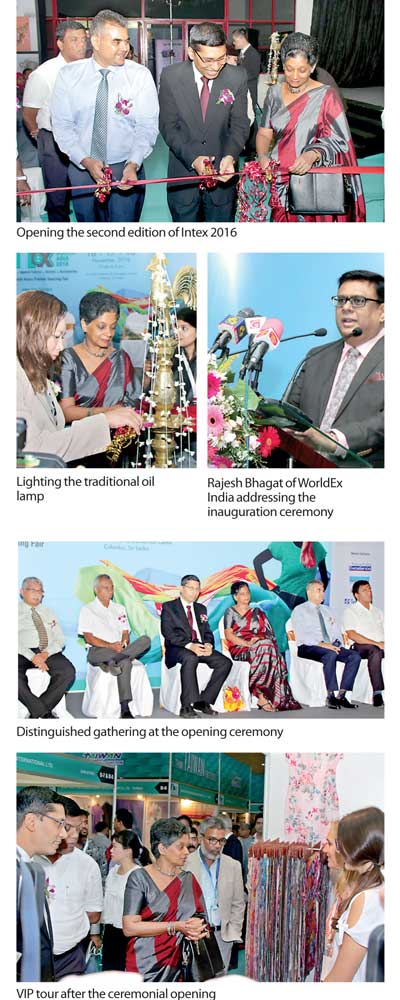 It is the second edition of Intex South Asia 2016 and in anticipation of readying Sri Lankan apparel industry for GSP Plus concessions, this year's exhibition was successful in bringing more than 150 exhibitors from Italy, Japan, South Africa, Korea, China, Taiwan, Singapore, Malaysia, Indonesia, Pakistan, Bangladesh and India to Sri Lanka.
Intex South Asia 2016 was inaugurated by Indian Acting High Commissioner Arindam Bagchi with the event graced by Export Development Board (EDB) Chairperson and CEO Indira Malwatte as the guest of honour. Many distinguish guests representing the textile industry were also present at the inauguration ceremony together with presidents of leading trade bodies from Sri Lanka and other countries.
Addressing the opening ceremony, Bagchi pointed out the importance of strengthening the links within our region. He explained how the government could support and facilitate these kinds of events but the private sector's involvement takes them forward towards the success.
"We would like to see this as a regular feature on our annual calendar. India and Sri Lanka have much political relationship and it is time for us to work on better trade and investment relationships," he said.
Commenting on Intex South Asia 2016, Malwatte said it is encouraging to see the quality of the fair scaled-up compared to last year.
"This is a very good opportunity for the textile industry in Sri Lanka and I am sure the second edition will go far to increase its reputation as a trade fair which will take the industry forward in terms of manufacturing and exports. With a lot of anticipation for GSP Plus concessions in the near future and the apparel industry would add around 300 million more value, make these kinds of events vital for overall performance," she said.
Participating Intex South Asia 2016 together with a delegation from Bangladesh, Bangladesh Commerce Ministry Deputy Secretary Mohammed Zafrul Islam Azizi showed much interest in exploring opportunities and building business relationships.
"Sri Lanka has great capacity to develop as the regional hub for textile and we are happy to associate with them seeking mutual benefits on this long journey," Azizi mentioned.
Present at the inauguration, South African High Commissioner Robina P. Marks pointed-out that South Africa is a huge market for Sri Lanka to concentrate on. "We are keen on improving trade links with Sri Lanka to strengthen our business relationships and trade platforms such as Intex South Asia 2016 would create ideal opportunities," Marks said.
As the show continues, Intex South Asia 2016 would be the best platform to make the right business and industry decisions under one roof.