---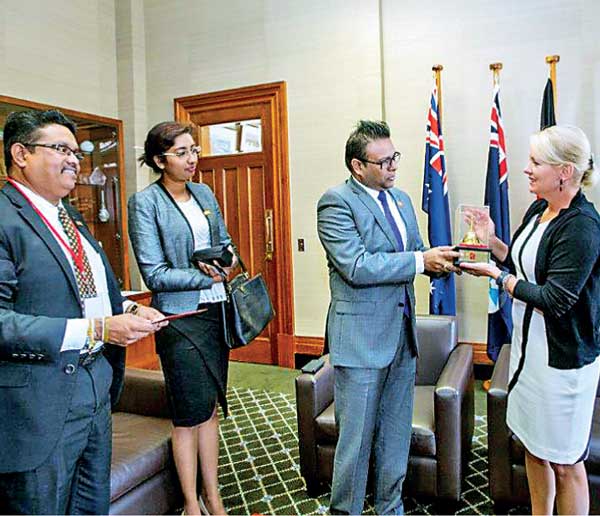 A trade delegation to Australia organised by the Colombo Chamber of Commerce concluded recently amidst much positive response.

The delegation was organised as means of creating the necessary background for local small and medium enterprise (SME) entrepreneurs to enter the international market and it managed to successfully secure a number foreign investment to Sri Lanka.
The delegation visited the cities of Melbourne and Brisbane and it consisted of Sri Lankan SME entrepreneurs of various industries, exploring business opportunities and partnerships from and to Australia.
The delegation was led by Colombo Chamber Honorary President Dr. Amila Kankanamge and accompanied by Provincial Councils and Local Governments Minister Faiszer Musthapha.
The delegation created a great interest within the business and political communities of Australia as one of the most successful attempts towards strengthening Sri Lanka-Australia bilateral relations in the recent past. All delegates were provided the rare and valuable opportunity to meet and develop networks with leading Australian businessmen relevant to their industries.
A business-to-business (B2B) matchmaking session and cocktail party was held at the Rendezvous Hotel in Melbourne. The attendees of the event included former Victoria Premier Ted Baillieu and numerous leading entrepreneurs and politicians from Melbourne.
Initial agreements for many business ventures and final agreements for investments worth Rs.500 million were made and entrepreneurs discussed in length the various challenges they come across when investing in Sri Lanka and Musthapha agreed to provide appropriate solutions to these issues.
The felicitation ceremony of Hume City Council Deputy Mayor Chandra Bamunusinghe also took place during this event.
A very fruitful meeting took place with the Heads of Deakin University Law School, where Colombo Chamber came to an agreement to send business executives and entrepreneurs from Sri Lanka to participate in the university's 'Short Executive Education Programmes' in the areas of business conduct, business law and legal frame work, import export laws and barriers, trade and intellectual property, etc.
This delegation received wide media coverage from many Australian media organisations. Leading newspapers such as The Australian, Herald Sun and several radio and TV stations conducted many interviews where the delegation was given the opportunity to address a number of issues concerning the Australia-Sri Lanka bilateral relations.

Dr. Kankanamge and Musthapha met with Victorian Legislative Assembly Speaker Telmo Languiller at Victorian parliament for an insightful discussion on how more opportunities can be created for Sri Lankan products in the Victorian market.

Furthermore, a meeting was conducted with Cr. Krista Adams of the Brisbane City Council, in which matters pertaining to the promotion of trade between Australia and Sri Lanka were discussed. Here it was mentioned how Sri Lankan products can easily garner a greater demand in the Australian marketplace if they meet the required quality standards.

Moreover, following another successful meeting with the Queensland Chamber of Commerce and Industry (QCCI), basic agreements were made, regarding the facilitation of Sri Lankan entrepreneurs' access to the Australian market. The QCCI director board especially invited Dr. Kankanamge to organise another trade delegation to Brisbane in the future.