---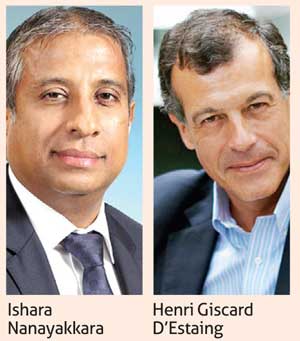 Well-known French club resort operator Club Méditerranée will be inking an agreement with Sri Lanka's LOLC group this Friday to manage and market the latter's Riverina Resort in Beruwala as the first Club Med resort in Sri Lanka. Commenting on LOLC's strategic partnership with Club Med, LOLC Deputy Chairman Ishara Nanayakkara said, "It is my pleasure to welcome Henri Giscard D'Estaing, President and CEO of Club Méditerranée, to flag off our flagship venture in Sri Lanka.
LOLC's Riverina Resort in Beruwala will now become Sri Lanka's first Club Med property." "We are overjoyed that a top global brand such as Club Méditerranée will be collaborating with us, as the brand will enhance the identity of Sri Lanka tourism by attracting affluent tourists to our shores, while generating valuable employment opportunities within the local community, thereby boosting the local and national economy," Nanayakkara added. With its foray into the leisure sector, the LOLC group has made great strides in placing its flag in prime tourism hotspots across Sri Lanka. In recent times, LOLC has made aggressive investments into the leisure sector in the Maldives, securing some of the most sought-after real estate in Male and in strategic locations among other atolls.
"Our vision for this sector has motivated us to enhance the group to include our own destination management company, an outbound arm, a comprehensive family entertainment complex and more, within a relatively short span of time," Nanayakkara said. Over the past 65 years, Club Méditerranée, which was commonly called as Club Med, has been a catalyst in transforming emerging destinations into international highlevel tourist places, generating great global interest and immediate traffic wherever it settles. Bali, Cancun, Punta Cana, the Maldives and Phuket are perfect examples of destinations launched into the list of world-class destinations after Club Med's first resort was established in those locations. Expressing his views on opening the first Club Med in Sri Lanka, D'Estaing said, "I am very pleased to be signing the agreement with the LOLC group, which will pave the way for establishing the first Club Med in Sri Lanka. Continually in search of new exceptional locations, Club Med is proud to contribute to the well-being of Sri Lankan tourism and to its local economy, attracting a variety of local talent." "Thanks to this partnership, we are hoping further projects will be developed in this stunning location. Opening by 2018 in Beruwala, this Club Med will be perfectly integrated in its setting and reflects our ambition to become the worldwide leader of premium all-inclusive holidays," he added. The development of a world-class Club Med resort in Sri Lanka will strongly contribute to the tourism success of the country, while contributing to attract affluent tourists from Europe and Asia into the island and stimulating the local economy to create hundreds of direct and indirect employment opportunities. The project design team comprise of Vinod Jayasinghe Associates (Pvt.) Ltd, Project Management Partnership, Q-Serve (Pvt.) Ltd, NCD Consultants (Pvt.) Ltd, K2 Consultants (Pvt.) Ltd, Chandana Dalugoda Consultants and Nimal Perera Associates. The construction team for the project consists of Sierra Construction (Pvt.) Ltd, Sintech Engineering (Pvt.) Ltd, Ajax Engineers (Pvt.) Ltd, Kent Engineers (Pvt.) Ltd and Creations Wooden Fabricators (Pvt.) Ltd.