---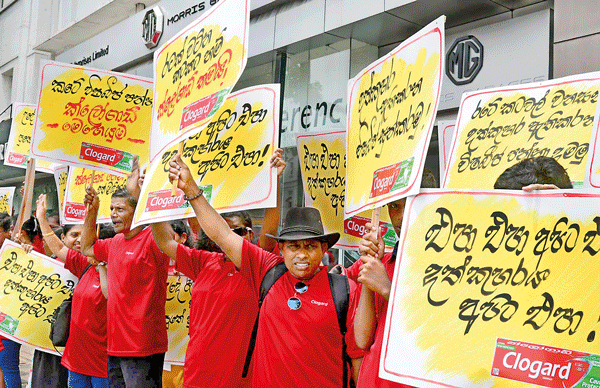 As the No. 1 Sri Lankan Cavity Protector, Clogard has continuously been instrumental in creating nationwide oral health awareness to fight cavities. Manufactured by Hemas Marketing (Pvt.) Ltd, the company's flagship toothpaste brand, Clogard is committed to creating a cavity-free future for all citizens.
Towards this aim Clogard as a responsible brand and oral health provider has over the years been involved in a wide spectrum of unique awareness-related initiatives including educational programmes to highlight the importance of overall good oral health. In its mission to increase awareness on oral health and prevent cavities, Clogard, the No. 1 Sri Lankan cavity protector in the country recently marked the World Oral Health Day, in major cities in the country – Colombo and Galle where large numbers gathered to voice their support on the need to instil good oral care habits. Holding placards with tag lines such as brush in the morning, brush in the night, brush your teeth daily twice! Sri Lankans from all walks of life participated and pledged their support towards a cavity free Sri Lanka.
As the No. 1 Sri Lankan cavity protector (source: LMRB HH Panel), Clogard is proud to lead initiatives that focus on creating awareness on good oral care habits among Sri Lankan. Through these massive gatherings we continue to reach consumers across the country, encouraging them to reaffirm their commitment towards cavity eradication," said Kushani Peeris, Senior Brand Manager, Hemas Manufacturing (Pvt.) Ltd.
Brushing with fluoride toothpaste is a simple yet critical form of cavity prevention. Additionally untreated tooth decay can cause serious issues and infections. Thus the importance of preventing tooth decay as well as detecting and treating any early signs of decay from progressing to cavities is of paramount importance. Research has shown no matter the age, children and adults who brush using toothpaste that contain fluoride help reduce tartar formation, improve gum health and prevent dental caries.
The importance of using fluoridated toothpaste to prevent the disease is also highlighted in the World Health Organization's (WHO) policies which support the widespread use of fluoridated toothpaste. Clogard offers superior cavity protection for the whole family. Brushing twice a day using Clogard which contains Fluoride and Clove oil fights against cavity causing germs preventing dental caries and help maintain good oral hygiene. Annually Clogard initiates several public awareness and school programmes to inculcate good oral hygiene among school children. Clogard strives to impact the lives of all Sri Lankans becoming an essential part of daily oral hygiene and therapeutic oral care. Clogard is keen to ensure the country's beautiful smiles are protected.