---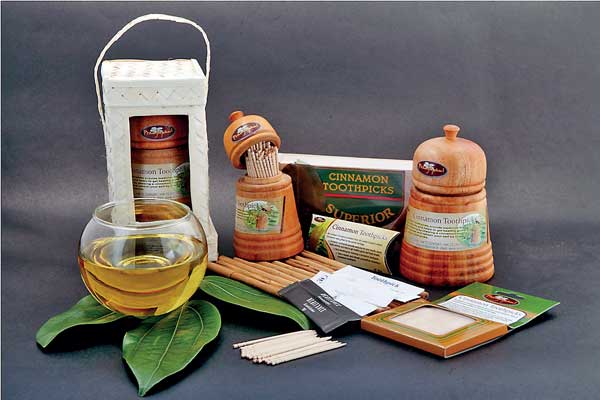 Apeiron Lanka (Private) Limited, the producer of high quality Cinnamon Toothpicks to Sri Lankan and exports markets under the brand name 'Prajapani' commemorated their existence in the market for 10 years with a steady growth year-on-year. Prajapani Cinnamon Tooth Picks is a unique product made out of special variety of wood treated with 100 percent pure Cinnamon oil using a traditional oil impregnation method to obtain the uniformity of Cinnamon fragrance and taste all over the toothpick. Cinnamon (cinnamon ceylonicm) is a native plant of Sri Lanka and Sri Lanka produces the best quality Cinnamon in the world.
Cinnamon has a spectrum of medicinal properties including strong antiseptic and astringent properties. Cinnamon is effective against tooth decay, help boost brain activity and creates fresh breathe. Further, Cinnamon is proven to be Anti-diabetic. Prajapani Cinnamon Toothpicks is not just a toothpick. It has variety of added benefits. Those who wish to quit smoking Cinnamon Toothpick is an effective substitute for cigarettes. Also this product will help eliminate fatigue and monotony during a long drive or long hours in the computer.
Apeiron Lanka (Private) Limited is the proud manufacturer of this versatile product. If you are looking for an exclusive, memorable, high quality Sri Lankan traditional product in an elegant pack to be given as 'give away' at your next corporate event or to a foreign visitor or if you need a gift item with Sri Lankan identity to carry with you when you make your next foreign visit, Prajapani is a great idea. Product comes in variety of containers and for large orders we can give you tailormade packaging to suit your occasion. Sachet packs – (single C/T/pick in a hotel or restaurant name / logo printed paper), Handy pack ( contains 40 c/T/picks in a printed paper pack),
Bell shape wooden holder – small (Contains 100 Cinnamon toothpicks), Bell shape wooden holder – Large (Contains 200 Cinnamon toothpicks) Packed in a Hand Made Pan Malla. Elephant pack (Contains 100 Cinnamon toothpicks), Refill pack (Contains 100 C/ toothpicks in a printed paper pack), Superior grade in wooden box pack (Contains 50 Cinnamon toothpicks).