---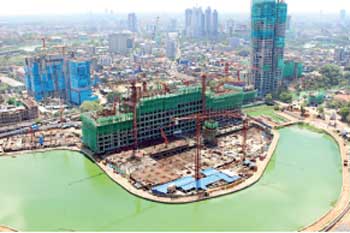 Cinnamon Life, Sri Lanka's most iconic mixed development project of its kind to date, in association with the Ceylon Chamber of Commerce, will host the Cinnamon Life Forum series, a sequence of thought leadership events, from November 28 onwards.

The forum series will revolve around the central themes of economics, investment and international business and will highlight ideas that will help to shape Colombo into a dynamic and competitive hub in the region.

Each event in the series will feature a prominent internationally-renowned field expert who will deliver exclusive insights and innovative ideas that will inspire and inform the country's top business audiences. Whilst serving as a platform for networking for its invitees, for the larger stakeholder and corporate communities and the public, the series will shed light on how real estate and property development is set to elevate Colombo's competitiveness as a top city in the region, while bringing in leading professionals and renowned experts to Sri Lanka.

Leading the first event of the series will be Andreas Krüger, a globally recognized thought leader, who currently serves as Managing Partner of Belius GmbH, Berlin.

Andreas works with his team at Belius, a Berlin-based strategic consultancy, which supports policymakers, urban administrations, property owners and investors, users as well as
civic initiatives.

His team helps them in their efforts to create and maintain human-centred, livable, relevant and economically feasible spaces. Additionally, Andreas specializes in curating urban residences and project developments for cultural, retail and commercial as well as residential use.

Commenting on the Cinnamon Life Forum series that is set to take place later this month, Cinnamon Life Chief Marketing Officer Roshanie Jayasundera-Moraes said, "This initiative is designed to serve as a voice for the real estate development industry. Cinnamon Life itself is one of the largest investments to be made by a Sri Lankan corporate in the post-war era, hence it is not always easy for the stakeholders who aren't directly involved in the development to imagine or conceptualize the full influence and impact of a mixed development of this magnitude. Through the Cinnamon Life Forum series, we hope to bring to light and create greater local and international awareness about the positive impact that the project and growth of the real estate industry at large will have on the overall city's transformation."

Cinnamon Life is an integrated development by Sri Lanka's premier listed conglomerate, the John Keells group. Upon completion, the project will comprise 800 luxury hotel rooms that will operate as part of the Cinnamon chain, an array of entertainment facilities, apartments, retail and entertainment malls, office spaces and many other attractions.

The development's iconic design by Cecil Balmond will span across 4.5 million square feet and it envisioned to be the epicentre of modern South Asia. Designed to be the first multi-functional development of its kind in the country and a city within a city, Cinnamon Life is set to strengthen Colombo's position as a travel, lifestyle and entertainment hotspot in the Indian subcontinent.

Sri Lanka's real estate and property development industry has been one of the fastest growing sectors in the country, attracting foreign, domestic and private investments from across the world. Primarily linked to the city of Colombo, these investments are transforming the economy and painting a new landscape for growth, employment and urban development.