---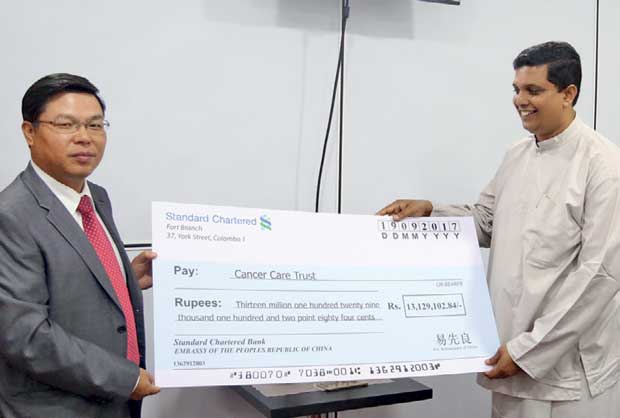 A donation ceremony took place at the Cancer Care Association of Sri Lanka on 22nd September.
Chinese Ambassador Yi Xianliang and Speaker Karu Jayasuriya attended the ceremony. Ambassador Yi handed over a donation of Rs. 13 million to Dr. Samadhi Rajapaksa, Chairman of the Cancer Care Trust of Sri Lanka, to assist the foundation to help cancer patients throughout the island.

Ambassador Yi said that China is one of the largest donation provider to Sri Lanka while health area is the key field, accounting for one-third of the such donation every year.zThe Chinese assistance to Sri Lanka is inclusive and mainly focuses on the area of people's livelihood. In 2017 only, the total worth of Chinese aid in the area of people's livelihood is around Rs. 23.68 billion, including the construction of the Outpatient Building of National Hospital and the Kidney Disease Hospital as well as emergency humanitarian aid of relief supplies. China hopes assistance from other foreign countries could also focus more on the Sri Lankan ordinary public instead of being used as a tool to interfere in Sri Lanka's internal affairs.

Speaker Jayasuriya expressed his gratitude and said that it is a donation given to the Sri Lanka people, reflecting the profound friendship of the Chinese people.