---
By Kelum Bandara
Chinese Ambassador to Sri Lanka Qi Zhenhong, in his remarks to Sri Lanka Investment Forum has suggested Sri Lanka to create a better policy framework in order to attract foreign investments to the country.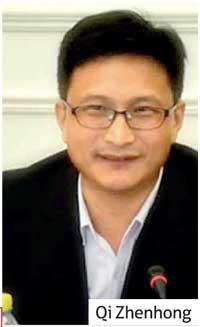 The ambassador said it is important for the Sri Lankan government to ensure consistency, stability, transparency and effectiveness of its investment policies to the greatest extent."As such, China and Sri Lanka need to promptly continue efforts to carry out medium and long-term plans for investment cooperation and development between the two countries agreed upon in 2017. At the same time, negotiations on the China-Sri Lanka FTA should be resumed as soon as possible. If a timely agreement can be reached, it will certainly further promote our bilateral trade and investment," he said.
Elaborating on Sri Lanka's uniqueness for attracting investments, he said its strategic location in South Asia and proximity to key shipping routes connecting Asia and Europe were the main factors in this regard.

"This shipping lane covers two-thirds of the world's crude oil shipment transportation and half of container transportation. As the maritime hub between East and West, Sri Lanka is endowed with easy accessibility to Southeast Asia, South Asia, the Middle East, Africa and Europe having great potential for investments in logistics parks and overseas warehousing.

Next is its enabling policy framework. After ending the civil war in 2009, the Sri Lankan government has strived to incrementally improve the regulatory framework for foreign investment, better the investment climate, actively seek cooperation opportunities and negotiate trade agreements with its partners. As the agency built specifically to administer foreign investments, the Board of Investment has done tremendous work in promoting and encouraging foreign businesses to invest in

Sri Lanka. In the meantime, Sri Lanka has established over ten government-led export processing zones, industrial parks and other platforms dedicated to drive investments. Through these platforms, the investors enjoy different types of benefits in areas such as review and approval, tax incentives, foreign exchange control, land leasing, and supporting services, and thus are more inclined to invest. The brand-new Colombo Port City and the up and running Hambantota Port project are also platforms of similar nature that the Sri Lankan government strongly supports. I do hope our Chinese companies will seize this historical opportunity," he said.

However, he said there were also some bottlenecks one might encounter in the process. "Firstly, Sri Lanka's industrial sector is not that strong having a relatively small-scale economy. Its supply chain development and supporting facilities are far from perfect. Secondly, though the policies to attract foreign investment are in place, problems such as lack of concrete measures, cumbersome administrative procedures, lengthy coordination process among government agencies and inefficiency in decision-making etc still exist at the implementation stage. Much remains to be done in terms of investment facilitation. Thirdly, Sri Lanka has a dynamic environment of public opinion. Among the diversified views, unfortunately, at times there are baseless accusations and attacks on Chinese businesses," he noted.