---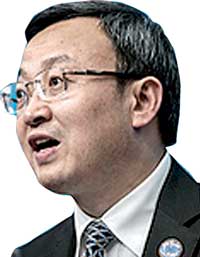 By Shabiya Ali Ahlam
China affirmed its commitment to helping its regional peers to reach their full growth potential, but implied the international agencies must step up and speed up their efforts for such economies to "grow more trade for success."
"As World Trade Organization (WTO) members we must make efforts, we must speed up implementation of the packaged agreement. We must step up our effort to improve the trade facilitation agreement as soon as possible. This is essential," China's Vice Minister of Commerce Wang Shouwen told the World Export Development Forum (WEDF) 2016, that concluded in Colombo yesterday.

He noted that the trade cost reduction produced by the Trade Facilitation Agreement (TFA) could be more valuable for developing countries and they should join in regional development measures.
Advocating for Free Trade Agreements (FTAs), an avenue China capitalized on to integrate with the world, Shouwen stressed that open and transparent FTAs do not substitute WTO, but supplement it.
"FTAs between members that are at different levels of development promote industrial cooperation. It would allow trade and investment flow to the benefit of all participants," said the Vice Minister while commending Sri Lanka for taking a similar route in its determination in boosting trade ties with the international market.

To-date, China has concluded 14 FTAs covering 22 countries and as result has been successful in attracting US $1.7 trillion in FDIs. This alone accounts for about half of China's trade and 14 percent of China's total jobs.

"Attracting investment is important for exports and FDIs and knowledge transition is a crucial part of driving indigenous innovation in local companies," he added.
Furthermore, the Vice Minister also reaffirmed China's continued support to Sri Lanka. Acknowledging that the two nations are in active discussion in boosting ties, Shouwen stressed China would support Sri Lanka's development ambitions and would partner with the country going forward.

"China is willing and very faithful to Sri Lanka and would remain so as a partner to making a large number of planned projects by the Sri Lankan government a success," he assured.