---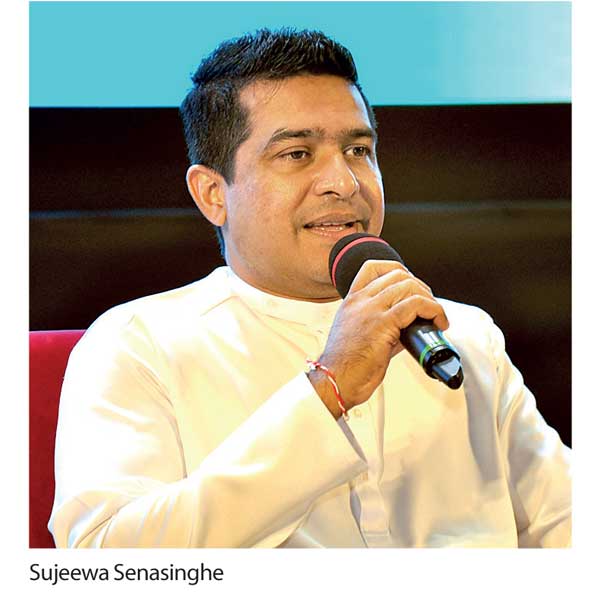 By Chandeepa Wettasinghe
China has pledged over US$ 10 billion in investments to Sri Lanka over the next 3 years in addition to other bilateral investments, Development Strategies and International Trade State Minister Sujeewa Senasinghe said yesterday at the conclusion of the World Export Development Forum 2016.
"China has committed to about US$ 10 billion within about 3 years," he said in response to a question Mirror Business raised.

This represents an escalation of Chinese investment plans, since the Chinese Ambassador had last month said that China was willing to invest US$ 5 billion in a similar time frame across industrial zones that will be created in the future in Hambantota and other regions.

India has since said that there would be US$ 2 billion in investments over the medium-term, while the United States pledged US$ 792 million as well.

Senasinghe noted that there are commitments for mega projects from India, Japan and Thailand, and said that many smaller investments for which values haven't been calculated have also materialized.
"We have a couple of huge investments, especially in Hambantota. There's an oil refinery which is worth about US$ 1 billion, there's a gas refinery which is worth about US$ 2 billion, and there's a sugar refinery, I don't know the numbers on that. And a couple of cement factories," he added.
Senasinghe said that there are also two 500 megawatt liquid natural gas power plants planned for Trincomalee and Hambantota. Sri Lankan citizens pressured the government into abandoning the cheaper coal option, and a power crisis is looming, starting from 2018.

Developing Hambantota with the assistance of China had been the brain child of former President Mahinda Rajapaksa. The new government had said that since the white elephant projects have already been launched, it is now incumbent upon them to create returns on investments.

Despite the growing rivalry between India and China, the East Asian Tiger had said that it was not banning India or any other country from setting up operations within Chinese industrial zones in Sri Lanka, including in the 15,000-acre zone planned in Hambantota.

The past infrastructure projects were financed through high interest debt instruments instead of investments based on public private partnerships.
Despite criticism, the current government has not hesitated to take credit for some of the projects launched by Rajapaksa.
"We'll be finishing a lot of the infrastructure projects I told you about earlier. The highways to Kandy, Trincomalee, Jaffna, and Matara and the Port City we're hoping to finish within the next 3 years," Senasinghe said.

Tourism Development, Land and Christian Affairs Minister John Amaratunga this week said that there was no point in distinguishing between the different governments that started development, since the past government too had taken credit for initiatives started by its predecessors.
Projects started by the past regime were delayed for over a year, as the current regime investigated allegations it made into corruption and lack of environmental feasibility studies concerning the projects.

At the grassroots, citizens are complaining that there has not been any development or improvement of their living standards under the current regime, which Institute of Policy Studies Chairman Professor Razeen Sally warned about recently.

The current government, which has also taken massive loans to rollback past debt and payout unsustainable public sector wage increases, has planned some transportation, housing and industrial development in Colombo under the Megapolis Project, and urban development in Kandy and Trincomalee.

It is planning to negotiate several free trade agreements with China, Singapore, Malaysia, Thailand, Vietnam and Bangladesh to create export-led growth, Senasinghe said.