---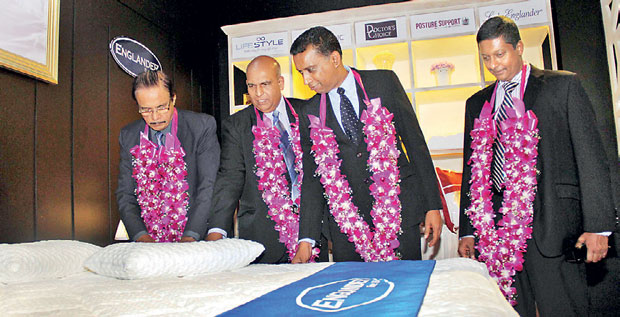 Richard Pieris & Company PLC Managing Director Local Manufacturing and Distribution Sector Sunil Liyanage, Director Manufacturing Lalith Wijeyesinghe, Director Shantha Kularatne and Group Chief Financial Officer Shiron Gooneratne at the launch of Englander mattresses in Sri Lanka
Pic by Pradeep Dilrukshana
Englander, the world-renowned mattress brand based in Chicago, USA, made its debut at the new flagship store at Arcade Independence Square in Colombo on April 26, 2017.
As a top international brand with over a 100-year heritage, Englander has remained as one of the most innovative mattress brands in the world.
In a reality where most consumers find hotel beds and mattresses comfortable and think that they are good for back support, Englander has understood the yearning of consumers to have a hotel-grade mattress in their homes.
"With a heritage of almost 85 years, we have been providing innovative solutions to the ever changing needs of multiple generations of consumers and now we are proud to introduce one of the world's finest brands in sleep technology to Sri Lanka," said Richard Pieris and Company PLC Chairman, Managing Director and CEO Dr. Sena Yaddehige.
The Englander mattresses are featured in an array of the finest hotels around the world, namely The Hilton, Marriott Hotels, Sheraton Hotels, etc.
The Englander products are known for their cooling and comfortable features, which provide a relaxing sleep supported by the natural rubber/premium PU foams that give the right amount of firmness and coolness.
For over a century, Englander has been trademarked for the support, durability and the deep restful sleep that every customer enjoys through their products.
"At Englander, we've spent decades mastering the art and science of sleep and we design that experience into every mattress we make. Though over the years the technology behind the Englander has evolved, the vision has always remained the same. We are proud to have Richard Pieris & Co. PLC as our partner in Sri Lanka," said Englander Sleep Products President and CEO Kevin Toman.
The exclusive range is now available in Sri Lanka from Rs.50,000 upwards and is now showcased at the Arcade Independence Square showroom. The number of showrooms is to expand further into a few other exclusive locations of Arpico Supercenters from June onwards.