---
By Zahara Zuhair
The government, along with the chambers of construction and other allied associations should facilitate a campaign to attract the country's youth to the construction industry by giving them a better understanding and a picture of the advances made in the construction industry, as the numbers joining the construction industry have drastically reduced due to many reasons, according to the head of the country's leading construction chamber.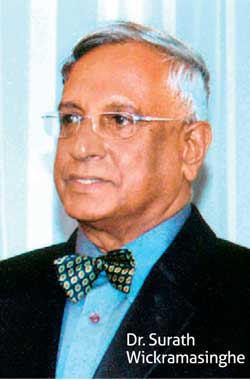 "This may be due to lack of security and safety with regard to working in it for fears they may be laid off during a slump in the economy or have to face physical dangers.

The other reasons may be that there is no dignity of labour as all construction workers are classified by the type of work they do and are not respected by the public who label them masons, carpenters or similar names," Chamber of Construction Industry (CCI) President Dr. Surath Wickramasinghe told a recent forum in Colombo.

He said through such an initiative, particularly in the 21st century, where modern technology has been introduced, not only for the purpose of construction but also the use of software used for design and implementation of architecture, engineering, project management, quantity surveying, etc., could transform Sri Lanka's construction industry to be competitive with any other developed country and to work in collaboration with foreign counterparts. In other countries he said, particularly when a country plans to transform itself and achieve targets within a specified time period, various incentives are offered to the young to attract the manpower resources to the required sectors.

"In fact, in South Korea, not only were the wages higher than the other professions, but professionals, technicians and the workforce were given apartments and other perks that kept them within the country.
If this happens, even a 'reverse brain drain' could happen and those who have left the country for better prospects may be encouraged to return," he said.

He pointed out that even before the commencement of mega projects like the Port City, Megapolis and other infrastructure developments planned for this year and the next, the impact of the shortage of appropriate skills and workforce in general in the construction industry IS already felt.
"At a recent meeting, with the chairman of the Board of Investment (BoI), our chamber raised the issue and even he confirmed that there were many requests from developers and contractors to import their requirements of human resources," he said.

Noting that in this connection, the chamber has over the past two to three years been highlighting the anticipated shortage of skilled and unskilled labour, for construction projects at different forums, the response from the authorities have not been positive.

"However, in the interim, at least for the next three to five years, developers, consultants and contractors should be allowed to import their labour and other requirements from overseas. I am aware that Nepal, Bangladesh, Burma and India are a few other countries that export their labour," he noted.

Meanwhile, he said that another factor that has to be addressed is the supply of materials for the construction industry.

"At present, there is a shortfall of sand, cement, timber, bricks and cement concrete blocks as basic construction materials," he said.

Hence, he stressed that to meet the future demand, Sri Lanka will need a 'strategic plan' for the production and supplying of these materials.

"The human capital for these industries will need to ensure consistent production of these materials needed for construction. If not, such materials would need to be imported to Sri Lanka to meet the envisaged construction," he said.

Furthermore, he said that at present, professional consultancy firms are confined to a limited number of reputed firms providing in-house consortium services and on the other hand, in a future strategy for human capital, the opportunity must prevail for a larger number of lead firms, either exclusively local or with foreign collaboration.

"For various reasons, despite long-running improvement agendas in most of the world's most developed markets, construction in Sri Lanka remains a wasteful, tradition-bound industry plagued by delays, cost overruns and contractual disputes," charged Dr. Wickramasinghe.