---
National carrier, SriLankan Airlines, said yesterday it incurred a group net loss (before finance and one-off charges) of Rs.6.49 billion (US $ 15.2 million) for the financial year (FY) 2016/17 amid difficult market conditions.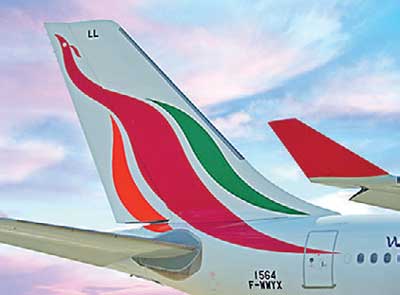 According to the airline, this is an increase from the Rs.2.9 billion (US $ 3.15 million) loss recorded in the prior year, but a significant improvement from the deficit that had been budgeted for the year. However, the airline's total operational revenue rose to Rs.136.68 billion from Rs.129.48 billion in the previous financial year, as SriLankan said it carried the highest ever number of passengers in its history in FY 2016/17. Based on draft un-audited accounts, the total operational revenue increased to Rs.136.68 billion from Rs.129.48 billion in the previous year.
"The year was profoundly challenging for airlines worldwide, with the International Air Transport Association (IATA) estimating an 8 percent global decline in air fares in US dollar terms," SriLankan said in a statement. The airline said despite these challenging conditions it managed to control the decline in its average fares to only 3 percent in US dollar terms year-over-year, a satisfactory performance in relation to many leading airlines in the world who have seen significantly higher fare declines.
"The depreciation of the Sri Lanka rupee against the US dollar had a significant negative impact on the airline, as a majority of costs in the global airline business are US dollar denominated.
The impact of this was further exacerbated by the relatively high price of jet fuel in Colombo, where the largest share of the airline's fuel uplift takes place. In the face of these challenges, the airline accelerated its cost reduction efforts, enabling a reduction of its Unit Cost (CASK) in US dollar terms.
During the last quarter of the financial year, the airline's financial performance was further significantly and adversely affected due to the very necessary runway re-surfacing project at Colombo's Bandaranaike International Airport which required the airline to cancel over 600 flights during the period," SriLankan noted.
During the year, SriLankan completed the integration of Mihin Lanka's operations into its network. At the end of the year, SriLankan was serving 36 international destinations from its hub in Colombo, with an operating fleet of 24 aircraft.
The airline already has announced plans to add three new destinations in India from summer 2017, thereby becoming the largest foreign airline into India by the number of cities served.
Meanwhile, the primary shareholder, the Sri Lankan government, has undertaken an initiative to select a suitable strategic partner for the airline.