---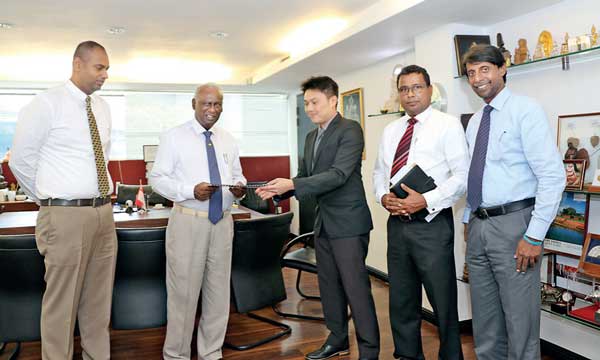 L-R:Harshith Dharmadasa (Managing Director- Ceyoka), Jayantha Dharmadasa (Chairman – Ceyoka), Wayne Wong (Sales Manager - Success Electronics), HarendraJayasuriya (General Manager – Professional Lighting, Ceyoka Engineering) and Duminda Jayarathne (Business Development Manager - Professional Lighting, Ceyoka Engineering) at the agreement signing
Ceyoka Professional Lighting, part of diversified conglomerate Ceyoka (Pvt) Ltd and at the forefront in supplying premier industrial lighting solutions for customers, strengthened its local market presence recently when it signed an exclusive distribution agreement with Success Electronics & Transformer Manufacturer Sdn Bhd, one of the largest industrial lighting manufacturers and complete lighting solutions provider in Malaysia.

The agreement was signed between Harshith Dharmadasa, Managing Director Ceyoka Engineering (Pvt) Ltd and Tan Ah Ping – Managing Director of Success Electronics & Transformer Manufacturer Sdn Bhd.

As interest and demand grow for energy-efficient and innovative lighting solutions, Ceyoka customers now have access to Success Electronics' Nikkon's comprehensive range of industrial lighting products to illuminate their spaces.

Ceyoka Professional Lighting now offers Nikkon's extensive industrial lighting products for areas such as flood lights, factory and warehouse lighting, special applications for cold and boiler rooms, distillation plants, workshops, garages and car parks, marine lighting including ports, petrol stations, gymnasiums, multi-purpose halls, classrooms and façade lighting.

"Success Electronics is one of the largest industrial lighting manufacturers in the region and we are proud to be associated with them. As a leading local supplier in this segment our exclusive distributor agreement will ensure customers have access to Nikkon's broad product portfolio. Their commitment to the highest quality, makes Success Electronics a logical choice helping us reinforce our position in the market," said Duminda Jayarathne – Business Development Manager Professional Lighting of Ceyoka Engineering (Pvt) Ltd.

Wayne Wong – Sales Manager Success Electronics commenting on the agreement said while supplying a large volume of industrial lighting to international markets and armed with an impressive list of completed global projects, quality and innovation continue to be central to Success Electronics' philosophies.
Success is an ISO 9001:2008 certified company and Nikkon products are also accredited with TUV & CE international standards. The company uses up-to date equipment and constantly researches and develops new products.
Success Electronics entered into this agreement recognising Ceyoka engineering's capabilities, market reach and professional team.

"We are very pleased to partner with an innovative and extremely customer-focused organization, with strong demand creation programmes that will broaden our reach into the rapidly emerging local market for industrial lighting," noted Wayne Wong of Success Electronics.
"Ceyoka's marketing strengths and technical support will help Success achieve significant growth opportunities targeting the rapidly increasing demand for high quality, energy efficient internal and external lighting solutions for industrial environments," he added.