---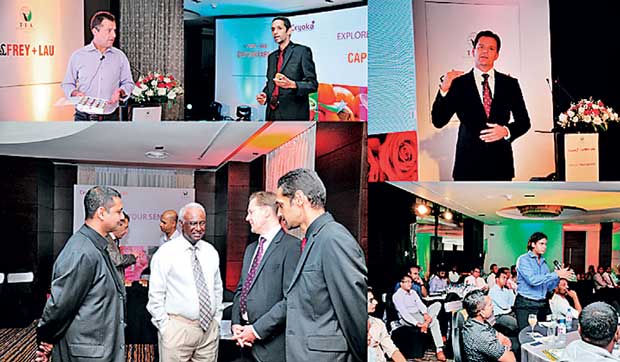 While consumer preferences for food and beverages are continually changing, the need for enhanced tastes and sensorial experiences persist.
Ceyoka Flavours as sole agents for Frey + Lau, renowned German manufacturer and supplier of essential oils, flavors and fragrances, understand that while consumers today are receptive and appreciative of foods and ingredients, local tea Exporters need to provide exciting flavor solutions creating unique, differentiating tastes that define and truly set products apart.
Showcasing flavor development and capabilities to create beverages that offer an enhanced taste and multi-sensory experience, Ceyoka and F&L conducted a workshop recently for local tea export Companies.
"The manufacture of fragrances, flavours and aroma ingredients is seldom a simple process. However, through the combined strength of Ceyoka Flavours and F&L and their 175 years of industry leadership we can offer flavours unique to our market, while adhering to global standards," said Stuart Hatch, General Manager, Flavours Division, Ceyoka (Pvt) Ltd.
Facilitating the workshop was F&L Managing Director Claas Nendel and Export Manager Eric Bornemann helping participants understand new perspectives in creating solutions, specifically in producing winning taste sensations.
Participants at the workshop were introduced to F&L, the product range – liquid and granules, the advantages of using their products, the advanced technology used including the research and
development process.
Particular emphasis was placed on F&L's groundbreaking Capso range. This extensive range include Capsopearl, Capsoflake, Capsostick, and Capsoleaf. Its diverse flavours in natural, nature identicalandorganic granules are exceptionally well-suited for flavored tea.
F&L's innovative Capso range has a wide and unique variety of flavours. The controlled flavor release ensures customers encounter the aroma, prior to it dissolving
in water.
The workshop facilitators enlightened participants on the product capabilities to match flavours and the benefits for customers; lower dosages, increased profit margins, its European technology, IFS certification and the strong partnership with Ceyoka.
Unlike other flavours available in the market, through Ceyoka, customers can place minimum order quantity requirements and avail themselves of shorter delivery times.
An evening event was also organized held for professionals and CEOs of the tea companies where the official product launch of the CAPSO range took place. An 'Experience Zone' was a highlight at both events where attendees had the opportunity to truly experience taste sensations and aromas associated with F&L flavours and the wide range available.
"We are excited to be working with Ceyoka Flavours. Our flavours have impacted the fortunes of numerous brands around the world, and we currently boast an extensive library of flavours and we firmly believe local tea exporters will also benefit from our CAPSO range launched locally helping to meet their growing needs for innovative products and great taste sensations," Claas Nendel, Managing Director, Frey & Lau.