---
By Shabiya Ali Ahlam
As Sri Lanka stands at a critical juncture, the newly appointed Chairman of the Ceylon Chamber of Commerce said that the expectation of the private sector from the government is the implementation of progressive policies and eradication of corruption, a much-needed requirement to achieve the sought-after inclusive growth.
"We call for the installation of a meritocracy and eradication of corruption at a fundamental and structural level.
Here we refer not just to the direct leakage of rupees and cents but also the cost of bad decisions and even inaction, which are motivated by factors other than national interest," said the incoming Chairman Dr. Hans Wijayasuriya, while addressing the chamber's 180th annual general meeting.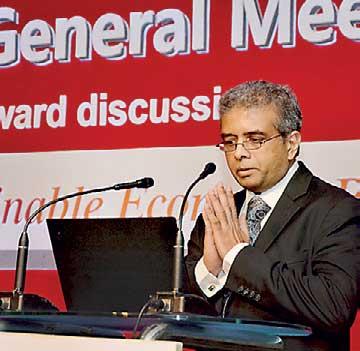 Dr. Hans Wijayasuriya
Pic by Samantha Perera

He made the statement while applauding the institutions and individuals within the public sector, who play a pivotal and sacrificial role in advancing the nation.

Dr. Wijayasuriya, who played a key role in changing Sri Lanka's telecommunication landscape, expressed his confidence that the country's private sector and a constructive government can help creating an enabling environment for the economy to flourish.

"The private sector positivism, in combination with a constructive and enabling role of government and a renewed focus on inclusive development, can rapidly transform the deficits in business confidence, locally as well as globally, among foreign direct investors," he said while stressing that these aspects together can help set a fresh trajectory for economic growth in the years ahead.

"We will also continue to seek transparency and consistency. We will assume as a fundamental deliverable of the government, the fostering of national harmony and the maintenance of law and order," he added.