---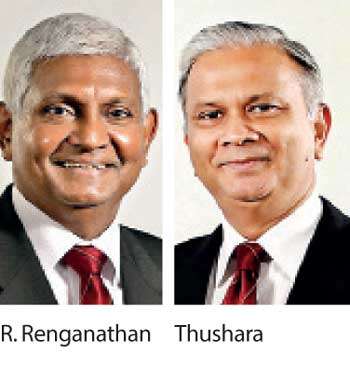 Ceylinco Life Insurance Limited (Ceylinco Life) has announced the appointment of R. Renganathan, the company's Managing Director/CEO, as Executive Chairman effective November 14, 2018 and the concurrent appointment of Deputy CEO Thushara Ranasinghe as Managing Director/CEO.

Sri Lanka's life insurance market leader said the changes at the top were part of the company's succession plan when Godwin Perera steps down from the position of Chairman and Non-Executive Director.

Renganathan has been at the helm of Ceylinco Life from the company's inception in January 1988. A Fellow of the Institute of Chartered Accountants of Sri Lanka and of the Chartered Institute of Management Accountants, he was responsible for setting up the company after the government permitted private insurers to enter the industry in 1987.
Ranasinghe has also been with Ceylinco Life from its inception and was a member of the founding team. A Fellow of the Chartered Institute of Marketing (CIM) UK, he has an MBA from the Postgraduate Institute of Management (PIM) of the University of Sri Jayewardenepura and counts 40 years in sales, marketing and strategic planning.

Adjudged Sri Lanka's Best Life Insurer by World Finance for the past four years, Ceylinco Life has been the market leader in Sri Lanka's life insurance industry for 14 of the 30 years it has been in operation.

The company has close to a million lives covered by active policies and is acknowledged as a benchmark in the local insurance industry for innovation, product research and development, customer service, professional development and corporate social responsibility.