---
Ceylinco Insurance PLC, which runs Sri Lanka's market-leading life insurance business based on gross written premiums (GWPs), recorded earnings of Rs.87.19 a share or Rs.2.3 billion for the December quarter (4Q16), up 38 percent year-on-year (YoY), the interim financial
accounts showed.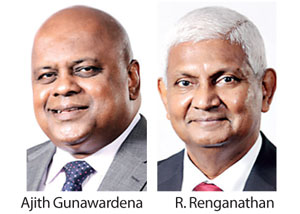 The GWPs of both life and non-life for the quarter rose 9 percent YoY to Rs.8.3 billion while the insurance group paid claims and benefits amounting to Rs.3.44 billion.
Meanwhile, for the year ended December 31, 2016 (FY16), the insurance group recorded earnings of Rs.171.28 a share or Rs.4.5 billion, up 29 percent YoY.
The GWPs for both segments rose 14 percent YoY to Rs.31.8 billion. The total claims and benefits paid stood at 13.3 billion, up 14 percent.
Ceylinco General Insurance Managing Director Patrick Alwis said the sharp increase in claim settlement is a result of the large number of claims paid during the floods in May 2016.
"Claims were paid within a period of 14 days, enabling our customers to return to normalcy in the fastest possible time. Some customers had only insured their vehicles but not their homes, while some had insured their shops but not their houses.
However, Ceylinco General Insurance, looking at the situation from a humane angle, decided to pay a percentage to compensate the damages to their homes as well," he added.
The group's life insurance segment reported an after-tax profit of Rs.2.95 billion for the year on a premium income of Rs.15 billion, which rose 11.7 percent YoY
The general insurance segment's after-tax profit stood at Rs.1.3 billion on a premium income of Rs.16.1 billion, which rose 18.9 percent YoY.
"As the clear market dominator and consolidating its leadership position further for the 13th consecutive year, Ceylinco Insurance sector, in 2016, remained far ahead of the competition," Ceylinco Insurance PLC Managing Director Ajith Gunawardena said in a statement.
Referring to its performance, Ceylinco Life Insurance Managing Director/Chief Executive Officer R. Renganathan said, "In 2016 we embarked on a huge market expansion programme once again. Not only Ceylinco Life but the entire life insurance industry benefited through this."
As at December 13, 2016, Global Rubber Industries (Private) Limited held a 22.25 percent stake in Ceylinco, followed by Banque Pictet & Cie SA with a 12.73 percent stake.