---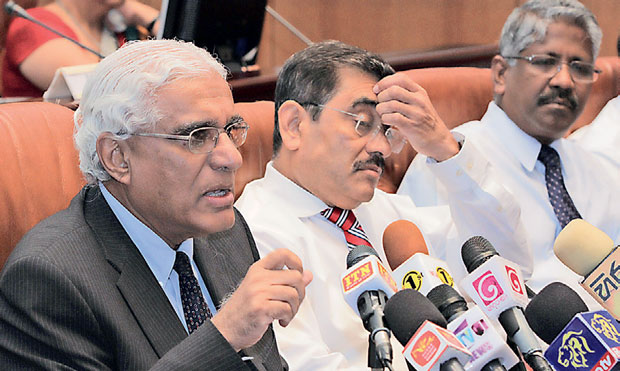 From left: Central Bank Governor Indrajit Coomaraswamy, Deputy Governor Nandalal Weerasinghe and Assistant Governor K.D. Ranasinghe
Pic by Pradeep Dilruckshana
Sri Lanka's fragile economy now appears to be at the mercy of receiving a billion dollars from China in exchange of 80 percent stake in Hambantota port under a 99-year lease agreement, as the country's fiscal and external sector headroom is thinning, making any more maneuverability virtually impossible.
The country's Central Bank, which raised its key policy rates by 25 basis points last Friday in a proactive measure to contain further overheating of the economy, banks largely on the Chinese money among a few other sources of foreign funding to support its dwindling reserves to avert another balance of payment (BoP) crisis, which the country is fast approaching.
"Hambantota port sale is crucial. If it does not materialise, the economy and the people will feel the burden. We also might have to take certain tough measures.
It appears that the deal is moving ahead," Central Bank Governor Dr. Indrajit Coomaraswamy told reporters on Friday after announcing the Monetary Board decision to jack up the policy rates.
The Hambantota port sale money is expected in three tranches—US $ 100 million when signing the contract, another US $ 300 million in three months and the balance US $ 700 million before the end of this year.
The sale of Hambatota port, built by the former President Mahinda Rajapaksa, has created a massive political storm amid wide geopolitical concerns and strong public opinion stirred by the Rajapaksa camp against it.
Sri Lanka is currently in a debt trap with at least US $ 1.9 billion in debt repayments coming up for during the rest of the year out of the total of US $ 2.6 billion due for 2017.
In contrast, the corresponding inflows into the country have been dismal with the earnings from exports declining, expenditure on imports rising and the current account deficit of the external account performing worse than expected. The foreign direct investment (FDI), to say the least, has been disappointing.
As a result, the gross official reserves have now come down to US $ 5.1 billion from US $ 6.0 billion in January 2017, sufficient for only about 3 months of imports— a very narrow margin at a time of extremely high volatility.
Dr. Coomaraswamy said the ideal level of reserves for Sri Lanka at this juncture is about US $ 10 billion, but they would try to bring it up at least to US $ 7.5 billion by the end of 2017, preferably through non-debt creating inflows such as the sale of the Hambantota port and several other state-owned enterprises.
The authorities have lined up at least another US $ 2.4 billion from several sources— US $ 1.5 billion from a sovereign bond issue, US $ 450 million syndicated loan, which could go up to US $ 700 million or even up to US $ 1.0 billion and another US $ 200 million loan from China Development Bank— all debt creating inflows which will further bloat the foreign liabilities. "This will meet the (foreign debt) obligations for the rest of the year which is about US $ 1.9 billion. That is a very thin margin. If there is any kind of shock, we will get pushed into a crisis. So, what I am saying is, we are not in a crisis situation now but without that China (Hambantota port) money, we will have a very thin margin. And if something happens, if there is an oil price hike or some kind of shock hit us, then we will get pushed into a crisis," Dr. Coomaraswamy cautioned.
Meanwhile, Sri Lanka is also hopeful of receiving the International Monetary Fund's third tranche by the end of May or early June after the IMF Executive Board approval is received for the progress made, according to the Deputy Governor Nandalal Weerasinghe.
Although the coalition government, which came into power in 2015, has made progress with regard to improving some of the socio-political aspects of governance, the lack of policy cohesion and inter-party and intra-part feuds among ruling politicians have resulted in poor investor confidence in the country, placing the country's economy at crossroads.