---
Coomaraswamy says monetary policy is OK for moment
Says country plans a foreign currency bond for early next year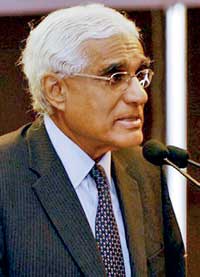 BLOOMBERG: Sri Lanka's Central Bank doesn't see any pressure to tighten policy even as inflation accelerates on the back of a severe drought and poor weather, Governor Indrajit Coomaraswamy said in an interview.

"We feel our monetary policy stance at the moment is OK," Coomaraswamy said in an interview in Washington on Friday.

"There is no demand side pressure that we see."

The Central Bank on September 26 kept benchmark interest rates unchanged at a four-year high as bad weather across the South Asian island pushes up prices and dents growth. Coomaraswamy signalled he is willing to look through that supply disruption.
Rates were raised in March to quell inflation and bolster the rupee. The International Monetary Fund (IMF) said on September 29 that Sri Lanka needs to remain vigilant on inflation and tighten policy if needed. The next monetary policy announcement is scheduled for November 7.

Inflation accelerated to 7.1 percent in September, above the Central Bank's target, as the worst drought in 40 years followed by the most severe flooding in more than a decade disrupted supplies and fuelled price gains.

The economy will grow between 4 percent and 4.5 percent in 2017, Coomaraswamy said last month, lower than his June projections of 4.5 percent to 5 percent. According to the IMF, growth will likely be below 4.5 percent this year and rebound in 2018 as weather-related woes pass and infrastructure projects pick up, IMF Mission Chief Jaewoo Lee said in Colombo on September 29 after holding discussions on the third review of Sri Lanka's US $ 1.5 billion programme.