---
Canon Singapore Pte Ltd President and CEO Noriko Gunji arrived in Sri Lanka on invitation of Metropolitan Group, Canon's local distributor for the past 38 years, to signify the importance placed by Canon on Sri Lanka, which is a fast-growing market for consumer and workplace equipment.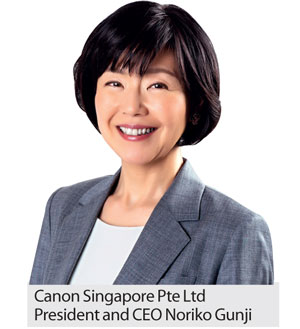 Her visit marks the relaunch of the total photographic experience centre, which is 'Canon Image Square' in Sri Lanka in line with 100s of similar Image Square specialty stores in South Asian markets. She will attend the ceremonial opening of the Canon Image Square V2, Canon Studio and Canon Imaging Academy, the first of its kind in Sri Lanka.
Gunji was appointed as President and CEO of Canon Singapore, the regional headquarters for Canon in South and Southeast Asia. Gunji has also been appointed as Executive Officer of Canon Inc. In April 2016, she moved from her role as Vice President of Canon China. Based in Singapore, she is responsible for leading and overseeing the sales and marketing operations in the dynamic region which spans 23 markets. The region includes the domestic Singapore market, national sales offices in India, Malaysia, Thailand, Vietnam, Hong Kong, Taiwan, the Philippines and independent distributors including Sri Lanka.
Gunji will be assessing the local market and will meet with select media personnel, photographic community and entrepreneurs who have been associated with the resounding growth of Canon in Sri Lanka.
Metropolitan Group has been the local distributor for the Canon range of products in Sri Lanka for the last four decades. The range includes digital professional, compact and video cameras, copiers, printers, scanners and related consumables.