---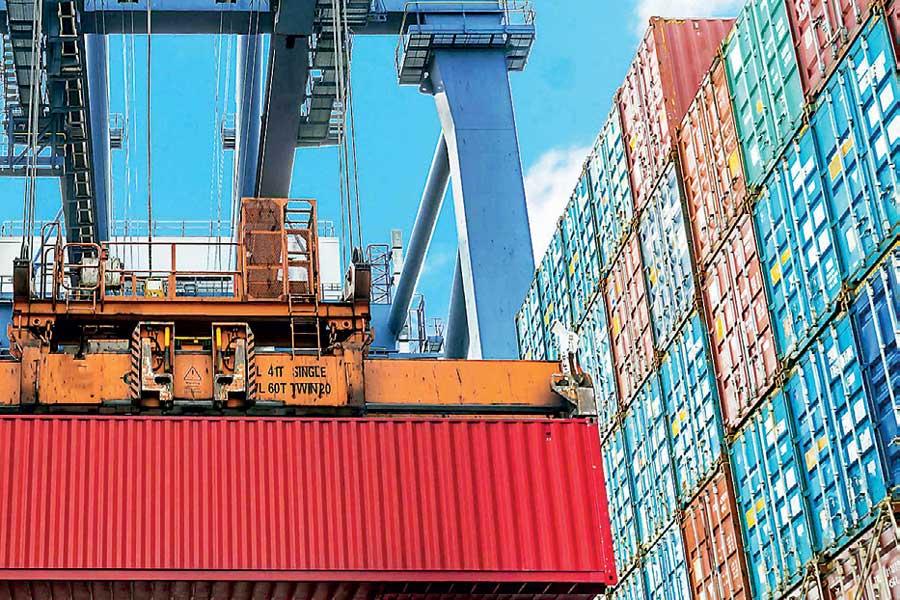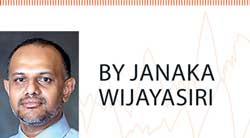 We live in an era marked by unprecedented technological change and innovations, which are transforming economic activities, including trade. While developments such as advanced robotics, artificial intelligence (AI), the Internet of Things (IoT), and three-dimensional (3D) printing could open up many opportunities for both developed and developing countries alike, these gains are not guaranteed.

To leverage the benefits, while minimising the costs associated with technological disruptions, governments need to manage the structural changes brought on by technological advancements successfully. This article discusses how digital technologies will impact trade and what policies developing countries, including Sri Lanka, should adopt to take advantage of these transformations.

Impact of digital technologies on trade
According to the WTO, new technologies will impact trade mainly by reducing the cost of trading. Technological advances can cut transport and logistics costs, by optimising route planning through the use of GPS and autonomous driving capabilities, with AI applications. For example, In October 2016, San Francisco startup, Otto, successfully completed the world's first autonomous truck delivery, carrying around 50,000 cans of Budweiser beer over a distance of 120 miles. Smart robots and AI can also reduce storage and inventory costs, while speeding up distribution. 3D printing has the potential to lower transport and logistics costs by decreasing inputs traded along the value chain and locating production closer to end markets.
Already manufacturers of jewelry, musical instruments, sports goods and toys, and medical instruments, have to a large extent adopted the 3D printing technology. Changes in the production process can result in quicker deliveries and lower shipping, storage, and trading costs, thereby benefiting consumers.

We know now that unnecessary procedures and burdensome trade regulations hinder the flow of goods. Time and resources spent to comply can sometimes be bigger impediments to trade than tariffs. Tools such as the Electronic Data Interchange (EDI) and the National Single Window (NSW) can play an important role in this regard, whilenew technologies, such as blockchain and AI, promise to further slash the costs related to
crossing borders.

Despite the promise of new technologies like blockchain, more work is needed to exploit their potential in areas such as trade facilitation by overcoming challenges like integrating with the customs systems and addressing technical and regulatory issues.

Beyond barriers behind and at the border, trading with foreign partners in distant countries is difficult because it is challenging to find information about potential buyers/sellers, their products, and product quality. It is even harder to find out about their reputation, verify information, and enforce contracts. Simple technologies, such as mobile phones, have significantly reduced information and transaction costs and boosted trade.

Online platforms such as Amazon, Alibaba, etc. can further help to cut down the costs of matching buyers and sellers, obtain market information, and provide information about potential consumers. Such platforms help boost the participation of firms in international trade and provide feedback and guarantees to improve consumer trust. Technologies such as IoT and blockchain also offer better and cheaper ways to ensure confidence through certification and verification.

While these new developments provide many opportunities for firms to organise their production and reach consumers more efficiently, there are also challenges. For instance, services, such as logistics and transport services, are essential determinants of goods trade. Therefore, digital platforms can lower trade costs as long as there are competitive and low-cost transport services available.

A decline in trade costs can be especially beneficial for micro, medium, and small enterprises (MSMEs), and those based in developing countries. But, if digital technologies are to deliver their promises, ICT services are essential.

While much progress has been made on digital connectivity (in terms of mobile/cellular, fixed broadband, and internet penetration), such growth has not been uniform across and within countries. There is a risk that digitalisation could widen existing divides and create new gaps, where MSMEs in developing countries are ill-prepared to take advantage of the digital economy.

Advances in digital technologies can also bring changes to the composition of trade in goods and services. The importance of services in the composition of trade is expected to rise, with the share of services in total trade predicted to grow to 25 per cent
by 2030.

Predicting future trade patterns is difficult, given that many new technologies have not been widely adopted. However, a preliminary evaluation by WTO suggests that new sources of comparative advantage will allow high-income economies to become net exporters of digital intensive sectors and reinforce existing
trade patterns.

At the same time, developing countries may gain comparative advantages in industries most affected by the shift to digital trade in developed countries. Digital technologies may also help these countries to export certain digital-intensive products. Countries like India and the Philippines have already established their positions and reputations as significant exporters of ICT services.

Implications for Sri Lanka
All of these above trends can have significant implications on Sri Lanka's participation in international trade and empowering MSMEs. Technological advances can lower the cost of trading and improve the competitiveness of Sri Lankan products and services by slashing transport and logistics costs, reducing the costs of crossing a border, decreasing information /transaction costs, and trade policy/regulatory barriers. Compared with regional peers, Sri Lanka's transport and logistical performance is lower than Singapore, Malaysia and India. Also,a lot more can be done to reduce the time and cost of border and documentary compliances in Sri Lanka.

While there are many public and private organisations in the country providing trade information and promotion activities, there are issues in terms of collection, analysis, and dissemination of trade information and trade promotion. Thus, information and transaction costs can be high. Online platforms can help to reduce the costs of matching buyers and sellers, of obtaining market information and of supplying information to potential consumers.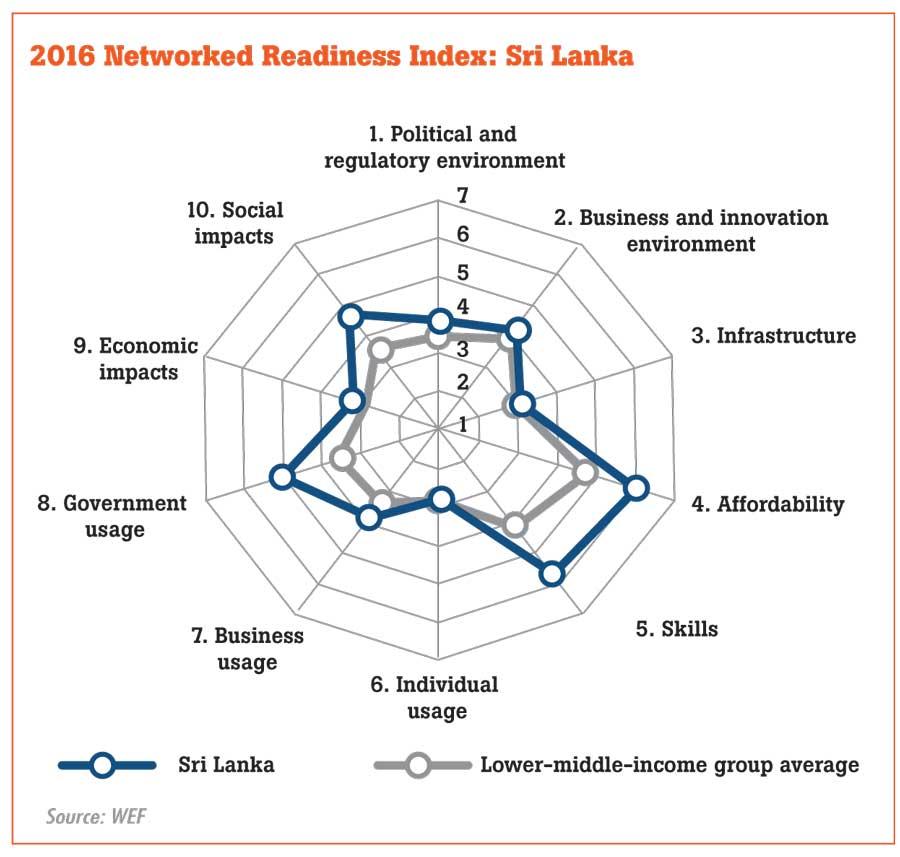 Formulating policies for digital economy
Governments clearly have a role to play in ensuring that individuals and businesses can seize opportunities from new digital technologies. For a start, they should address challenges such as improving digital infrastructure and human capital, formulating appropriate trade policy measures, and adapting the required regulatory framework to the changes. First, the need for investment in infrastructure is greater in developing countries, compared to developed countries. According to the World Economic Forum's Networked Readiness Index, Sri Lanka ranks 63 out of 139 countries in 2016 and fared poorly in some pillars such as infrastructure, ranking at 103 out of 139 economies. In addition, many governments in developing countries are also undertaking substantial investment to improve their human capital through training and skills development to facilitate the uptake of digital technologies.

For example, the Ministry of Education in Sri Lanka, as a pilot project, introduced Smart Classrooms in 25 selected schools,to update the education system in line with the transformation of the modern world.Within the Smart Classrooms, children are taught in English using tabs, reducing the need for any printed books.

2016 Networked Readiness Index: Sri Lanka
Second, trade policies covering goods and services can affect the development and performance of both digital infrastructure and digitally-enabled and other supporting services.
Existing research suggests that policies which limit services trade, by restricting market entry and foreign investment in services markets, can constrain the development of the digital economy. International cooperation at the multilateral level or regional agreements can help countries to open up and stimulate competition in their digital infrastructure services.

Currently, Sri Lanka has made limited commitments under the WTO GATS in telecommunication, financial services and banking, and tourism, while the inclusion of services in trade agreements among bilateral partners is a recent development. While Sri Lanka has eliminated import tariffs on a majority of informatics and telecommunications equipment, it still maintains tariffs on certain items.

Third, while the government tries to improve the enabling environment to promote investments in digital infrastructure/services, it is crucial to introduce regulations to achieve public policy objectives including consumer protection, data privacy, and cybersecurity. While various legislations for a digital economy havebeen introducedin Sri Lanka, they are still lagging behind other countries, and need to be updated.

With emerging technologies affecting trade, countries cannot leave technology evolutions to market forces. Governments need to take measures to ensure 4IR brings about benefits and is an inclusive process.

(This article is based on a chapter written for the forthcoming 'Sri-Lanka: State of the Economy 2019' report on Transforming Sri Lanka's Economic Landscape in the Fourth Industrial Revolution. Janaka Wijayasiri is a Research Fellow at the Institute of Policy Studies of Sri Lanka (IPS). To talk to the author, email [email protected] To view this article online and to share your comments, visit the IPS Blog 'Talking Economics' - http://www.ips.lk/talkingeconomics/)