---
Urges Opposition not to spread false stories and put country in danger
Says swap and stand-by arrangements are being discussed with a foreign central bank to bolster reserves
By Yohan Perera and Ajith Siriwardana
Sri Lanka would honour its loans and would not default, especially when it comes to international sovereign bonds, Finance, Capital Markets and State Enterprise Reforms State Minister Ajith Nivard Cabraal told Parliament yesterday.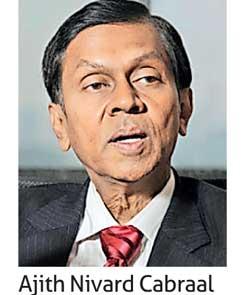 "We would like to request the Opposition not to carry false stories and put the nation in jeopardy," Cabraal said.

"Sri Lanka is in a position to face any challenges caused by COVID-19. We are in the process of going for a swap arrangement and a standby agreement with a foreign central bank," he said while assuring that arrangements are underway to bolster the country's foreign reserves and liquidity position.
"Some investment projects were delayed but we have managed to put many projects on track," he also said.

Sri Lanka has managed to achieve a positive economic growth of 1.5 percent during the third quarter of last year, he further said.