---
The Cabinet ministers with vested business interests should relinquish their interests or step down in order to create a clean government, asserted Finance State Minister Eran Wickramaratne, at a recent anti-graft forum in Colombo.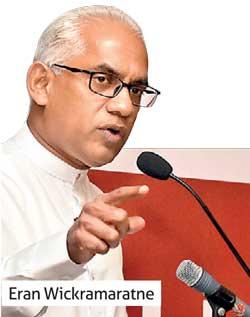 "There are ministers in the Cabinet, who have business interests. If we are invited to sit in the Cabinet, then we must relinquish all our interests or we can refuse to serve in the Cabinet and continue to serve as members of Parliament.
That's the only way to create a clean government," he said.
He noted that this type of conflict of interest has become commonplace in the country at present.

"It's almost normal today to accept a Cabinet position with business interests. The Cabinet is a place, in which we are privileged for all the information in the system and making decisions that impact every single citizen of the country. Hence, we must change the current system," he stressed. (NF)