---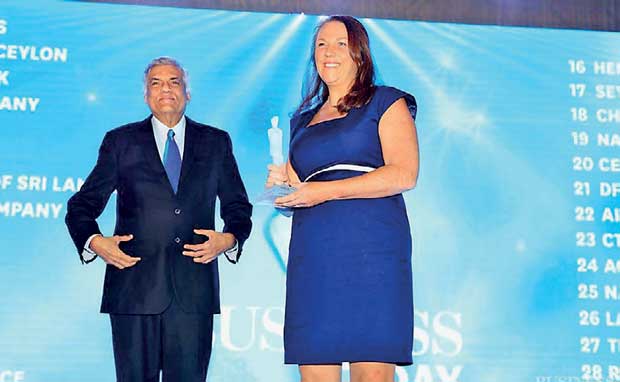 CTC's Finance Director Emma Ridley after receiving the award from Prime Minister Ranil Wickremesinghe
Ceylon Tobacco Company (CTC) secured the fourth position among Business Today 'Top 30' corporates at the award ceremony held recently in Colombo.
The awards platform recognizes the financial performance of established blue chip organizations that stabilize the growing Sri Lankan economy. Criteria considered for the ranking went beyond merely turnover to include, revenue, profit after tax, growth in sales turnover, growth in profit, return on equity, growth in earnings per share, market capitalization, value of shares transacted and value addition.
Emma Ridley CTC's Finance Director speaking at the award ceremony said, "We are extremely happy in being positioned 4th because we have succeeded in being placed among the Top 10 for 11 consecutive years. CTC has performed commendably to achieve this recognition despite the challenging operating environment that has hampered the growth of a legal business entity manufacturing a legal product. Most recently we were hit with unprecedented increases in excise and taxes, which has led to a 20 percent decline in our volumes. Unfortunately, however our loss seems to be a win for the less regulated and minimally taxed Beedi which grew its volumes by 200 percent in the past 5 years. This is not surprising as Beedi prices have hardly increased over the past years and it has remained a widely available affordable alternative to cigarettes."
CTC is considered the highest contributor to government revenue paying over Rs. 74 billion in excise and taxes in the first 9 months of this year. However, two back to back price increases, an excise led price increase in October followed by the enforcement of a 15% VAT in cigarettes in November, has resulted in a significant decline in the company's contribution to the state coffers.
Speaking on winning the BT award, CEO and Managing Director, Michael Koest said, "While we are proud of this recognition of our strong financial performance, we are concerned that the excessive and ad-hoc tax increases on legally manufactured cigarettes will have a detrimental effect on a business that has been operating legally for over a century. Since the most recent tax increases we see this also impacting our contribution to the exchequer.
"As a responsible tobacco company, we support reasonable regulations that are consultative, evidence-based and delivers policy objectives while respecting our legal rights as a legal business, selling a legal product. However, we also urge policy makers to adopt a formula that optimizes government revenue and meets public health objectives while enabling the legal cigarette industry to have a competitive advantage through a profitable and sustainable business."
CTC is also the second largest entity listed on the Colombo Stock Exchange further establishing the company amongst the top blue chip organizations in Sri Lanka. Further, CTC continuously invests in its CSR efforts to eliminate poverty in Sri Lanka and its flagship CSR project, the Sustainable Agriculture Development Programme, has been feted as one of the
best in Asia.