---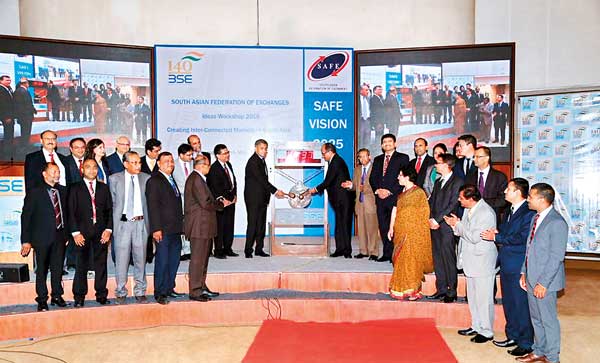 CSE Chairman Vajira Kulatilaka and BSE Chairman Sudhakar Rao ring the "Opening Bell" at BSE in the presence of other SAFE officials
Vajira Kulatilaka, the Chairman of the Colombo Stock Exchange (CSE), in his capacity as the Chairman of the South Asian Federation of Exchanges (SAFE) recently chaired the 4thSAFE Executive Committee Board Meeting and Ideas Workshop held in Mumbai. Leaders representing capital markets across South Asia were present at the event to discuss the vision and direction for the federation going forward.

Sri Lanka took up Chairmanship of the SAFE Secretariat in 2015, and has spearheaded the culmination of "SAFE Vision 2025", which hopes to encompass the future direction of SAFE. The vision deals with a number of areas that are vital to the development of the capital markets in the region, including improving financial literacy, co-operation among member exchanges and cross border financial trade.

Sharing his remarks at the event, Vajira Kulatilaka stated "Capital markets around the world are witnessing ongoing change. This creates both new opportunities and new challenges. I strongly believe that all members of SAFE should engage in a conscious effort to achieve fairness, efficiency, transparency and protection for our stakeholders going forward. Vision 2025 provides us an opportunity to realistically achieve this and the collaboration of capital market officials across the region is vital."

Kulatilaka went on to state that joining SAFE has been a positive step in the CSE's bid to collaboratively work withthe global financial market and other exchanges. He said "The federation has paved the way for collaboration with individual exchanges in the region and has given the CSE an opportunity to join the all-important dialog on how we can formulate a regional strategy to elevate our member exchanges."

SAFE is a forum of Stock Exchanges in South Asia and aims to foster collaboration and co-operation among its members in order to develop their respective capital markets. Presently SAFE has 15 primary members comprising of stock and commodity exchanges from India, Pakistan, Bangladesh,
Sri Lanka, Nepal, Maldives, Mauritius, Bhutan and the UAE. It also has several depositories and clearing houses in the region as associate members.