---
People's Bank CEO/GM Ranjith Kodituwakku was bestowed with the 'CEO of the Year' award at the CMO Asia Sri Lanka Innovation Leadership Awards on November 24, in recognition of his dynamic contribution towards the digital transformation of People's Bank, which is delivering multiple benefits to the organisation while offering an unparalleled customer experience.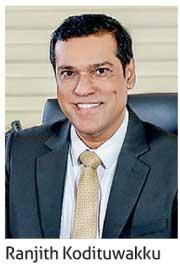 CMO Asia is a premium forum bringing top global professionals together for recognising and rewarding excellence, and the Excellence in IT Leadership Award recognises the use, development and deployment of IT by individuals who have demonstrated leadership in using IT for business transformation.

Kodituwakku has been at the helm of People's Bank digital evolution, ensuring that the organisation's digital transformation brings about the benefits it promises, while optimizing synergies, enhancing technology platforms and impacting the 'human' side, both employees and customers alike in a positive manner.

Digitalising a state bank is a challenging proposition and Kodituwakku has demonstrated diplomacy, technical expertise and people management skills in steering the Bank towards its goal of becoming the most digitalized bank by 2020.

He has been a key figure in strategizing the road map for championing the digital adoption and in recalibrating business processes for which the bank has won many prestigious awards and accolades both internationally
and locally.

People's Bank's has set a host of benchmarks in the banking sector during its digital journey such as the first Self-Banking Units (SBUs), People's Wave mobile banking app which remains as the most downloaded finance app in Sri Lanka, with an impressive 4.3 rating on Google Play Store; 'People's Wiz', the first-ever digital customer on-boarding application in South East Asia, Africa and the Middle Eastern region; and "People's Wyn", a specially-designed module for corporate clients, which is available as an internet banking portal and a mobile app.

"I am delighted to accept this award and dedicate it to the staffs of People's Bank who have offered unstinted support to take our vision for digital transformation to the next level. The entire digitalisation process has been a challenging one - beginning from changing old legacy systems and migrating both people and processes to the digital age," Kodituwakku said.

"Despite various obstacles, People's Bank has achieved this daunting task successfully and in the process has set various milestones in the banking sector.

"The global pandemic accelerated the demand for digital banking and financial services overnight and I am happy to state that People's Bank, which was already at an advanced stage in its digital journey, was able to meet demands for digital transactions almost immediately, which not only benefitted all our stakeholders but also proves that we are on trajectory on the digitalisation path. We are excited about our future plans for enhancing People's Bank's digitalisation," he added.