---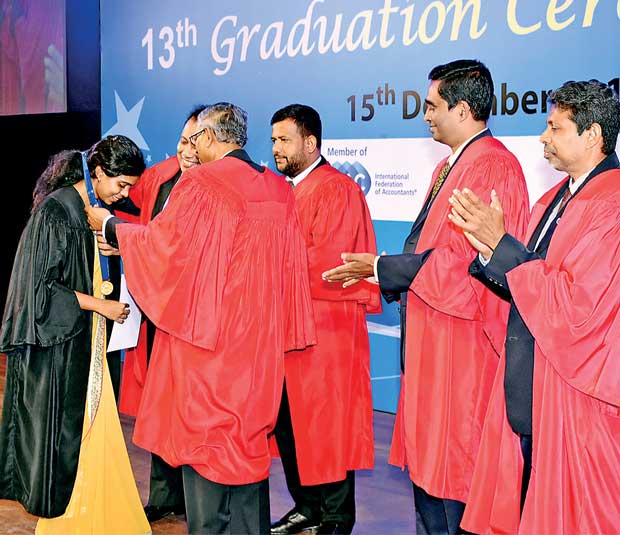 Angeline Dhevagunanesan was awarded the Prof. Lakshman R. Watawala Founder President Gold Medal for the best all-round student 2015/2016 at the graduation ceremony 2016 by Industry and Commerce Minister Rishad Bathiudeen, in the presence of University Grants Commission Vice Chairman Prof. P.S.M. Gunaratne, CMA President Prof. Lakshman R. Watawala, Open University of Sri Lanka Management Studies Department Head Dr. V. Sivalogathasan and CMA Examination Committee Chairman Dr. W.G. Senaka Kelum
Angeline Dhevagunanesan was awarded the Prof. Lakshman R. Watawala Founder President Gold Medal for the best all-round student 2015/2016 at the graduation ceremony 2016 by chief guest Industry and Commerce Minister Rishad Bathiudeen, guest of honour University Grants Commission (UGC) Vice Chairman Prof. P.S.M. Gunaratne and Institute of Certified Management Accountants (CMA) President Prof. Lakshman R. Watawala.
Also in attendance were special guest Open University of Sri Lanka (OUSL) Management Studies Department Head Dr. V. Sivalogathasan, CMA Examination Committee Chairman Dr. W.G. Senaka Kelum, Education and Training Committee Chairman H.M. Hennayake Bandara and other distinguished invitees.
Bathiudeen at the 13th graduation ceremony of CMA Sri Lanka stated that CMA, which is the national professional management accounting body in Sri Lanka incorporated by an act of parliament under his ministry, has received global recognition with membership of the International Federation of Accountants (IFAC) the global body for professional accountants, South Asian Federation of Accountants (SAFA), the regional body for professional accountants, and Confederation of Asian and Pacific Accountants (CAPA), the Asian and Pacific body for
professional accountants.
"I am happy that the Institute of Certified Management Accountants of Sri Lanka is providing the much-needed professional skills to our youth with prospects for good jobs and high salaries. Today, CMA is also on par with the other global management accounting bodies and provides a quality education at an affordable cost.
CMA Sri Lanka had its inception 16 years ago and celebrated its 13th graduation ceremony recently at the BMICH. With this event, CMA hit another milestone and recognized and presented awards to students who have passed the examinations of CMA in November 2015 and May 2016 and also those who had obtained Associate and Fellow Membership. Bathiudeen also stressed the importance of government institutions, state corporations and private sector to recognize and recruit CMA-qualified management accountants for the success of their operations as it is equivalent to the other professional accounting bodies and has obtained the same international recognition as both a local and international professional accounting body.
Management accountants play a very strategic role in business and provide management information to the board of directors for effective decision-making. CMAs are generally focused on the future of a business and not the past. Therefore, if industry and commerce is to succeed, they should have well-qualified management accountants working for them.
The institute offers a number of scholarships annually for deserving students who have excelled in their studies as well as those who need financial assistance and is yet another encouraging fact which shows CMA Sri Lanka's commitment to inclusive education. Bathiudeen commended CMA for launching the Certified Hospitality Finance and Management Accounting Professional programme for the hospitality industry in association with the Hotel School under the Tourism Ministry, which is one of the fastest growing sectors in Sri Lanka and required well-qualified management accounting professionals. The minister invited CMA President to start a similar programme for the cooperative sector, which comes under the Industry and Commerce Ministry.
Prof. Watawala in his welcome speech said CMA Sri Lanka, set up in 1999 with the technical assistance of CMA Canada, launched its operations in June 2000 and was incorporated by an act of parliament in the year 2009 with the due recognition as the national professional management accounting body in Sri Lanka.
With the ever increasing demand for professional accountants and the government's decision to give pride of place to local professional accounting bodies and the incorporation of CMA and making it the national professional management accounting body in Sri Lanka, a large number of students in Colombo and the outstations, graduates and also those in employment who did not have an opportunity to become management accountants, were provided a strategic window of opportunity to qualify as a management accountant and to contribute to the development of the economy in
Sri Lanka.
CMA has therefore taken the lead role in the development of inclusive professional education in Sri Lanka and is an eye opener for the private and public sectors to consider and recognize CMA professionals for jobs in Sri Lanka.
Prof. Gunaratne mentioned the role of management accountants in the government and the corporate world has been well established as an essential professional input for good governance, code of ethics, control and elimination of wasteful expenditure and for strategic decision-making for growth and development of an organisation as well as a country. He specially mentioned that by linking up with global bodies the CMA syllabus is in conformity with international educational standards and enables Sri Lankan students to obtain a quality professional management accounting qualification at an
affordable cost.
Also CMA saves valuable foreign exchange going out of the country. Moreover, it is noteworthy to mention that CMA has throughout shown a keen interest of continuing professional development of its members, a mission beyond a mere educational institution.
He also said that it is indeed happy to see the close association maintained by the institute with the local universities providing those who have graduated and for the undergraduates an opportunity to enter the professional management accounting field making them more suitable for employment in the private and public sectors.
We would like to see that the institution's links with the universities strengthen further in the spirit of strengthening professional standards of university students by obtaining a valuable professional qualification, a definite plus for their future careers.
Dr. Sivalogathasan said CMA has signed an MoU with OUSL to provide exemptions to its students and do only the final two levels of the BMS Degree programme for CMA students who have completed the CMA Managerial level, which will enable CMA students to receive a double qualification with the professional management accounting qualification plus a recognized
university degree.
Dr. Kelum highlighted the importance of Continuing Professional Development (CPD) for CMA accountants and the importance of the management accounting profession and the services given by the management accountant to the country, which is an essential component under the good governance. Also that the examinations are conducted with the assistance of the Examinations Department and thanked the Commissioner of Examinations and his staff for the valuable services rendered.