---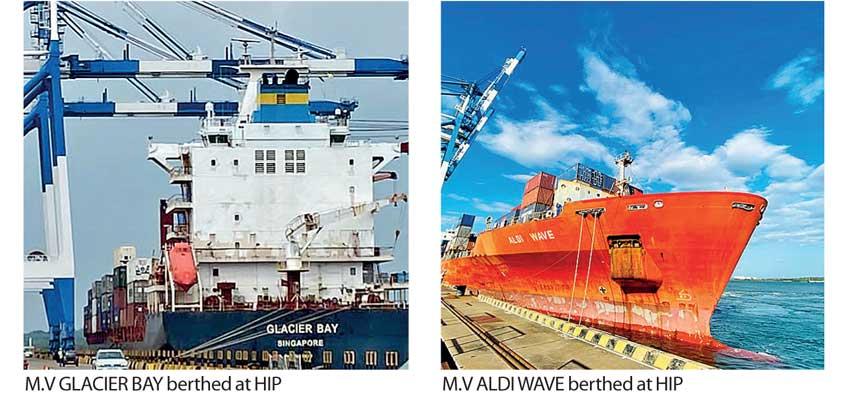 Two vessels owned by global French transportation and shipping group CMA CGM made their maiden call at HIP last week.

The vessels which were scheduled to call at the Colombo port, diverted to HIP for the transshipment of 450 units, and 722 TEUs.

The Singaporean flag bearing MV 'Glacier Bay' carrying containerised cargo from the Jebel Ali port in Dubai, berthed at the port on November 25th to discharge containerised cargo including reefer containers for transshipment.

The cargo bound for several European ports with the final destination of Durban, was loaded on to MV 'Aldi Wave' which docked at HIP the following day (26th).

The ship sailing under the Cyprus flag arrived from Nava Shiva to take the transshipment cargo from HIP, as the discharging vessel 'Glacier Bay' was returning to Singapore from where she would join another service.

Although the relay transshipment was scheduled to take place at the Colombo Port (CP), the entire operation was moved to HIP to avoid delays caused by congestion.
"Since the Hambantota Port could handle this move, we quickly got the paperwork ready and handed over the operation to HIP, which efficiently handled the transshipment. Four containers earmarked for Colombo, were also discharged in Hambantota and are to be sent by road under customs supervision. Overall operation concluded smoothly at HIP and is a great alternative because previously we lost two vessels to India due to similar problems. We are glad HIP came to the rescue this time complementing the Colombo Port and the vessels were retained for Sri Lanka," said Ikram Ghazali, Group Director, CMA CGM Sri Lanka.

The transshipment operation was carried out with HIP maintaining strict health and safety protocols.

"The port is to an extent isolated and we are doing regular PCR checks for all our employees coming into our premises from outside areas.

"We greatly appreciate the opportunity given to us by CMA CGM to handle this transshipment operation. While it is an advantage for HIP, we are also helping the Colombo Port by providing an alternative to handle transshipment, and moreover, we are ensuring that transshipment volumes stay within Sri Lanka, fulfilling HIP's promise of positioning itself to build capacity for the country," said Sylesh Peerez, Senior General Manager Operations of HIPG.