---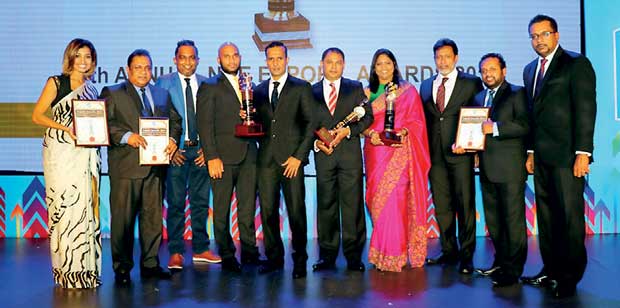 CL Synergy, a pioneer in providing integrated innovative logistics and freight forwarding solutions, was awarded two Gold awards and a Bronze award at the 24th annual award ceremony of the National Chamber of Exporters (NCE).
The award elevates CL Synergy's strategic position in the field as the highest achieving Sri Lankan freight forwarder in its fraternity.
The NCE is the only private sector chamber that exclusively serves Sri Lankan exporters and is considered the 'voice of the exporter'. Incorporated in 1994, the chamber has a membership of over 450 export-oriented companies covering all products and most services sectors, as well as service providers to exporters.
The NCE awards recognized service providers to exporters such as CL Synergy, which have made a significant contribution to the economy while rewarding them on their achievements both in the local and international marketplace. The event has achieved national significance over the years in view of its professionalism and high standards.
CL Synergy was awarded Gold under the Large category for being the best Service Providers to Exporters – Freight Forwarding. CL Synergy also bagged another Gold award under the category of Most Outstanding Exporter Sector-wise and a Bronze award for being the Most Innovative Export-Related Enterprise in the category of Service Providers to Exporters.
In an interview, CL Synergy Managing Director Roshan Silva said that the awards were an endorsement of the excellence in service provided by CL Synergy adding that it was an indication of the successful teamwork by every staffer of the CL Synergy family.
It is also noteworthy to state that CL Synergy celebrated its 12th anniversary, which coincided with this prestigious award ceremony. Silva said that it was a historic milestone in their 12th year and that it was encouraging to be noted as a leader in the logistics industry to the next generation.
CL Synergy also acknowledged the support of its stakeholders stating that this feat would not have been possible if not for the unwavering support by them.
The company has been an exemplary model for its effort in sustaining its business philosophy of ethics, trust, flexibility, reliability and speed. Over the years, CL Synergy has emerged as a company with core principles that are firmly committed more than ever to enhancing its service standards way beyond traditional boundaries by providing specific and customized solutions to suit the needs of its vast clientele.
Since its humble inception in September 2004, CL Synergy has expanded itself to be a full-fledged freight forwarding solution provider, offering varied services from air and sea freight forwarding, customs house brokerage, sea and air services to regular export and import, consolidated containers, trans-shipment operations, warehousing and land transportation.
In addition to diversification, the company has also leveraged its presence in the continent, with a marked and active presence in India and Bangladesh as well.
CL Synergy also holds firm to its motto of being a truly Sri Lankan company. With many world giants and multinationals in the industry branching out to Sri Lanka, the competition facing is fierce and aggressive. "Of course this is challenging but we overcame this with vast improvements in the volumes we handle," Silva said.
CL Synergy has received many accolades during the decade of its existence. The recent NCE exports Awards is testament of this victory. CL Synergy in 2007 obtained the Sri Lanka Logistics & Freight Forwarders' Association membership. The company is also an active member of the Executive Committee since 2009 and CL Synergy is also the Treasure of SLFFA Exco Committee. CL Synergy is a member of FIATA and IATA as well. CL Synergy was chosen by the Joint Apparel Association Forum (JAAF) as a preferred logistics solutions provider and has positioned its strategies in the region for the coming years in an effort to bolster the nation's largest contributor to the export revenue.
Today, CL Synergy has four other freight companies within its group: Eagle Logistics Colombo Ltd, ASB Freight Ltd, Salota International and Global Logistics. The company has also diversified into other sectors and now manages CLS Transport to cater to the road transport requirements, CLS Technologies to handle technological solutions, SLS Investments to undertake finance disciplines and also into the travels sector under CL Synergy Travels (Pvt.) Ltd.
CL Synergy also represents a larger number of companies worldwide including large international networks, regional networks and individual agents with more than 500 partner offices worldwide.
Given the bottom line success of CL Synergy within the span of a decade, it is noteworthy to mention that CL Synergy raises the bar high and will be an exemplary business model for those in the fraternity.