---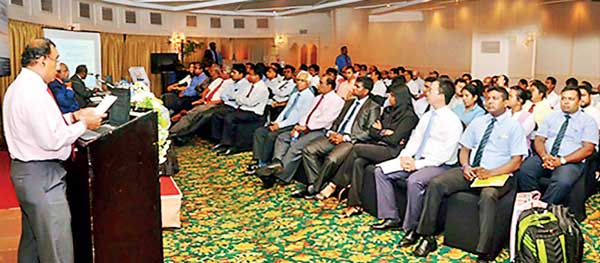 Ceylon Institute of Builders President Dr. Rohan Karunaratne addressing the gathering
The Ceylon Institute of Builders (CIOB), in collaboration with the Megapolis and Western Development Ministry, unveiled the proposed Western Province Road Structuring and Transport Plan recently.

The second seminar of a series organised by the CIOB was conducted by Western Region Megapolis Development Plan Project Director Lakshman Jayasekera under the theme 'Road Structuring/Transport' recently, at Taj Samudra Hotel Colombo.

The objective of this seminar was to educate and create greater awareness amongst the construction industry players on the finer points of the proposed initiative to develop roads and structure a new transport plan for the Western Region.

While Jayasekera was the main resource person, valuable inputs were also made by Chief Engineer Kushan Devasundara and Vanuji Abeywickrama, the two other speakers at this discussion.
CIOB President Dr. Rohan Karunaratne, Secretary Eng. Saliya Kaluarachchi and the council members also joined the seminar. The event attracted a large turnout of participants including a host of businessmen and engineers involved in the construction trade.

Expressing his views on unveiling the proposed Western Region Road Development and Transport Plan, Dr. Karunaratne said, "We have taken the lead to organise a series of seminars to educate businessmen and professions in the construction industry on the proposed Western Region Megapolis
Development Project.
It was the second consecutive seminar in this series that was successfully conducted. These seminars are very beneficial to all institutions that play an active role in Sri Lanka's construction industry. In the context of the next decade, we are introducing the proposed Western Province Road Structuring and Transport Plan in this manner."

Launching the initiative, Jayasekera noted that under this US $ 3.1 billion mega project, 196 kilometres of existing rail lines will be modernized, in addition to constructing 52 kilometres of new
railway tracks.

A new rail line will be constructed from Kottawa to Horana (22 kilometres) and a freight line covering Kelaniya, Dompe and Kosgama (30 kilometres).
Apart from these two projects, railway electrification, which exists in developed countries, but is a totally new concept to Sri Lanka, will also be introduced, he said.
Under the proposed Western Province Road Structuring and Transport Plan, the public passenger bus transport network will be completely modernized under a US $ 663 billion project.
The focus will be on bus modernization, providing multimodal facilities and introducing school bus/taxi regulations.
Apart from this initiative, plans are also afoot to develop inland canals and waterways in the Western province to launch new public transport services, Jayasekera said. In terms of this plan, it is envisaged to make use of inland canals to launch new public transport services from Wellawatte to Battaramulla, Colombo Fort to Union Place and Mattakkuliya
to Hanwella.
Under the proposed Western Province Road Structuring and Transport Plan, road infrastructure facilities will be further improved. The existing expressways in the country will be widened, in addition to undertaking new projects under a US $ 3.3 billion initiative.
It is envisaged to integrate the national and urban network of highways through the improvement of existing and missing links. Work will also begin on the new
Colombo-Kandy Expressway and the Ratnapura Expressway.
The two seminars related to the proposed Western Region Megapolis Development Project, organised by the CIOB were sponsored by a CIOB Green Mark award-winner, JLanka Technologies (Pvt.) Limited.
The third seminar in the series, which will focus on small and medium-scale plans (SME sector) of the Megapolis Development Project, is scheduled to be held on June 30 at Hotel Taj Samudra.
The CIOB was established in 1961 by a most illustrious group of engineers and builders of Sri Lanka. It was a very active organisation which contributed cohesive systems to the construction industry.