---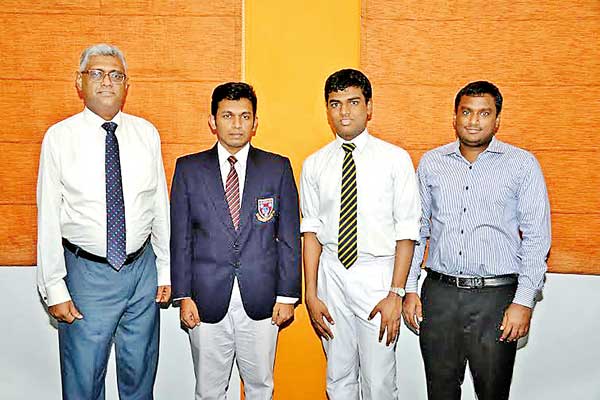 From left: CIMA Country Head Sri Lanka Radley Stephen, Akheel Mohammed,Oshada Jayasinghe and CIMA Markets Manager Sri Lanka SivasubramaniamVithushan
CIMA Sri Lanka recently recognized two students who began studying for the CIMA Professional Qualification immediately after they sat for their Advanced level examinations last year. Akheel Mohammed and Oshada Jayasinghe, who achieved the country's best results in the Commerce and Mathematics streams respectively, were awarded scholarships covering their examination and subscription expenses.
Akeel, who schooled at the Maliyadeva Boys School in Kurunegala, said it was the recognition of the qualification g l o b a l l y, higher s a l a r y potential and the acceptance by employers that motivated him to study CIMA. Oshada, who attended Royal College Colombo, plans to pursue a university degree in engineering and understands that CIMA would add value to his degree, encouraging him to pursue the qualification.
At present, both Akheel and Oshada are awaiting university entrance whilst simultaneously continuing to study for the CIMA Professional Qualification. Employability is a key focus of the qualification, where reallife skills and competencies sought after by employers are incorporated into the syllabus.
Passing the CIMA assessments demonstrates to employers that students have both the theoretical and practical grasp to drive business success in their organisations. Comme n t i n g o n t h e qualification, CIMA Country Head Sri Lanka Radley Stephen stated, "We were delighted to note that the island's Advanced level top rankers Akheel and Oshada were CIMA students at the time their results were released. In today's competitive environment it is essential for students to possess both academic and professional qualifications.
CIMA is a path we encourage students to follow as it provides them with many options in building their careers once the results are announced. I wish to congratulate both Akheel and Oshada on their success and wish them all the very best in their future endeavours." CIMA is today recognised for its competency framework and comprehensive syllabus that encompasses 'Big Data,' sustainability, integrated reporting, finance function transformation, risk, costing and cost management in addition to accounting.