---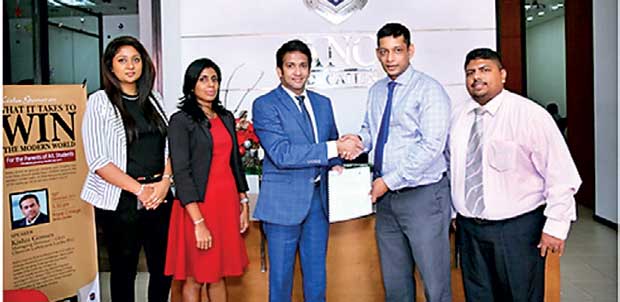 From left: Postgraduate Programmes Manager Enrolments and Student Affairs Kalhari Meegoda, AGM Postgrduate Programmes Erandi Dodamwala, ANC Education Executive Director/CEO Dr. Punarjeeva Karunanayake, CIM Sri Lanka Chairman Brian Selvanayagam and CIM Sri Lanka Manager Membership Development Sanjay Hettiarachchi
The Chartered Institute of Marketing Sri Lanka (CIM Sri Lanka) entered into a strategic partnership with ANC Education, one of the leading education conglomerates specializing in providing the best of transnational education opportunities at undergraduate and postgraduate levels in Sri Lanka.

ANC School of Postgraduate Education has been offering a number of MBA/MSc and LLM programmes in Sri Lanka in collaboration with the University of West London and has been closely linked with corporate entities such as the Chartered Institute of Marketing (CIM) to provide various study programmes and networking opportunities to its students.

With the aspiration to build awareness and share industry know-how a memorandum of understanding (MoU) was signed between CIM Sri Lanka and ANC School of Postgraduate Education committing to goals mutually benefiting both organisations.

The CIM students and members will be able to gain entry on to the MBA programmes offered by ANC School of Postgraduate Education in partnership with the University of West London and a special entry pathway is created for the CIM Professional Diploma level (Level 6) completed students to join the MBA programme. This is a unique opportunity for Level 6 students to progress in their career with a reputed British MBA qualification.

Commenting on the partnership, CIM Sri Lanka Chairman Brian Selvanayagam said, "We are grateful to be partnered with ANC Education to strengthen the knowledge and expertise of both fields and we look forward to maintaining a long-term partnership."

ANC Education Executive Director/CEO Dr. Punarjeeva Karunanayake stated, "We, at ANC, are pleased to collaborate with a renowned professional body such as the Chartered Institute of Marketing Sri Lanka. It is indeed a great opportunity to combine efforts to create value for both parties through collaboration.

CIM Sri Lanka is the first international branch of CIM UK and is proud to claim the largest membership outside the UK. CIM Sri Lanka has always campaigned for high professional standards, greater recognition for the profession and marketing excellence in Sri Lanka through education, training and development.

The University of West London MBA provides knowledge and skills in subject areas such as strategy, entrepreneurship, business ethics, business operations, new venture development, managing people accounting for decision makers and global marketing, providing the students with the best armour to play a global manager's role successfully. These modules are taught by the flying faculty from the University of West London and an expert panel for lectures from the corporate sector of Sri Lanka.

The ANC payment plans, student loan facility and credit card payment plans provide the students to start their MBA programme with a minimum monthly payment of Rs.9580 (conditions apply) thus, making the University of West London MBA programmes feasible for any CIM student.