---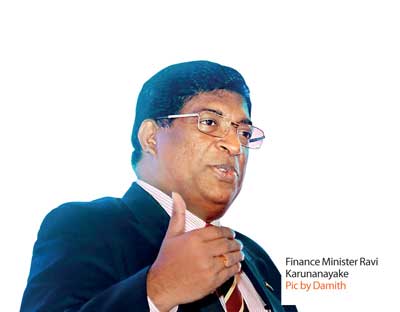 By Chandeepa Wettasinghe
The Colombo International Financial Centre (CIFC) will increase Sri Lanka's Gross Domestic Product (GDP) by 2-3 percent in its first years of operation, Finance Minister Ravi Karunanayake said at the Colombo International Maritime Conference yesterday.

"You would know that the DIFC (Dubai International Financial Centre of Dubai contributes almost 7 percent to the GDP of Dubai. We believe in the same. In the initial 5-6 years we will have at least 2-3 percent," he said.

He said that around 15,000-20,000 new jobs would be created through CIFC, which would be governed by English Law in order to bring in more international entities.

The aim of CIFC is to position itself as a financial hub for the South Asian region, along with the government's plan to develop Colombo as the regional hub for shipping and logistics as well.
The CIFC concept was introduced in the 2016 budget, and was set to commence operations by April 1, 2016 off D. R. Wijewardena Mawatha on the land which was earmarked for casinos by the previous regime.

Following delays, the creation of the CIFC will now take another several years, since it is now to be built on the Colombo Port City, for which land reclamation is still on going.
Karunanayake said that all the domestic, and locally operating foreign banks have shown their willingness to set up operations in CIFC.

Meanwhile, Stephenson Harwood Managing Partner Rovine Chandrasekera noted that the government would have to work out many legal, financial and trading frameworks in order to ensure a smooth transition of capital, goods and services between CIFC and the rest of Sri Lanka.
He added that there should be facilities to provide a higher quality of life for the locals and the expatriates who would come to work in CIFC.